PTC Instructor Recognized with Outstanding Service to Students Award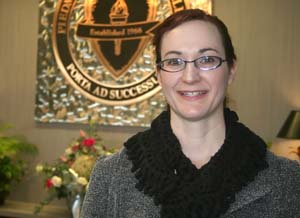 Lisa Jackson, a developmental mathematics instructor at Piedmont Technical College, was recently awarded the South Carolina Association for Developmental Education's Outstanding Service to Students Award.
"Lisa teaches Math 152 in Laurens and serves as the lead instructor for Math 032. She has successfully incorporated study skills into her Math 032 classes and recently saw an impressive 15 percent increase in retention," said Lisa Martin, department head for developmental and transitional studies. "Lisa works tirelessly to help her students succeed and is committed to developmental education."
Jackson earned her bachelor's degree in mathematics from California Baptist University in Riverside, where she also taught high school. But Jackson's desire to earn that degree came despite the fact that she struggled with math herself while in high school.
"When I hit algebra in high school, I would go home and do my homework until I was in tears every day," she said. "Then, halfway through my freshman year, it started to click."
When she enrolled at a local junior college, she was overwhelmed again. She says she was too immature to know how to seek help. She decided not to come to the final and then quit school.
"When I went back to college, it was because I wanted to learn, not because I thought you should go to college after high school," Jackson said.
When she went back, she took just one class - beginning math. She did well and enrolled in other classes as well as math the next semester. Jackson said she discovered that she had a knack for explaining things, so she worked as a tutor. She eventually went on to become a teacher.
"I thought I would always want to teach high school, but I love working at the college level," said Jackson.
Jackson said she shares her story with her developmental students at the beginning of each semester. She says she feels a connection to her students because of her own struggles with math.
"I love taking those students who are afraid of math and think they can't do it, and teaching them how to conquer it," she said.