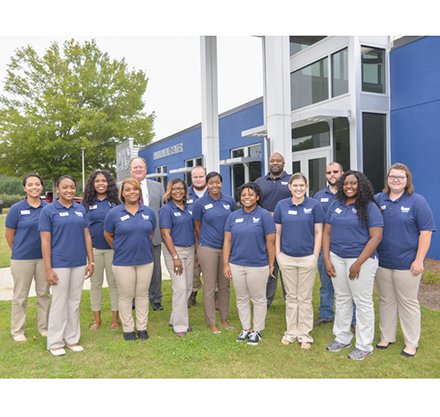 PTC Introduces Newest Class of Presidential Ambassadors
November 6, 2018
Each year, Piedmont Technical College chooses some of its best and brightest students to serve as Presidential Ambassadors. These students represent the college at campus events, provide campus tours and speak about their experiences to various audiences, including potential students and civic organizations. This year's 13 ambassadors hail from a variety of backgrounds and represent many program areas, but they all have one thing in common ― they share a deep gratitude for the impact Piedmont Tech has had on their lives.
Lula Berry of North Augusta is inspired by the example set by her father.
"He has shown me how to love and treat everyone with respect. He has taught me not to give up on anything, to put your all in whatever you do," she said. "He loves the Lord and has taught me so much in life, and I truly thank him for everything." The respiratory care major enjoys time with her family and hopes to make a meaningful impact on the health care field.
Alayjah Davis of Calhoun Falls is working toward an associate degree in radiologic technology and hopes eventually to go on and earn her bachelor's in the field. She decided to serve as a Presidential Ambassador to help grow her communication skills. The most influential adult in her life is her mother, who graduated in 2000 with a nursing degree and returned to college more than 15 years later to earn a teaching degree.
Davis is particularly cognizant of the importance of financial aid. "Being the recipient of the LIFE Scholarship and lottery tuition assistance for multiple years, I have realized that these programs provide so much more than just financial help," she said. "For me personally, and many others as well, they have provided hope."
Latisia Gilchrist is good with numbers and is not intimidated by complicated formulas. It is fitting, therefore, that the Greenwood resident is majoring in business administration with a concentration on accounting. She is grateful for the support not only of PTC faculty but especially that of her family, which means everything to her.
"I am serving as a Presidential Ambassador because it will give me a chance to help the needs of the college," Gilchrist said. "I am here to assist in any way I can."
Noel Johnson of Greenwood also has an affinity for numbers. She looks forward to receiving her associate in business administration with a concentration in accounting, then moving on to pursuing a bachelor's through the Columbia College Bridge Program at PTC. She is a full-time student who works two jobs and maintains membership in the Phi Theta Kappa Honor Society. Johnson is constantly encouraged by her mom, who she says returned to school at age 48, went back into the workforce after a divorce and remained a strong role model for her children through a challenging period.
"I have watched my mom go from a stay-at-home mom to a student to a single mom to a mom who lives an hour away from her kids," Johnson said. "She gave up everything to start a new life. … She isn't letting this be a setback. She is using it as a stepping stone to greater things."
Heaven Lee of Greenwood came back from near homelessness to become the holder of two degrees within the span of just two years.
"This past summer, I was able to graduate with my mechanical engineering technology and engineering design technology associate degrees," she said. "I managed to do this while being a single mother, a full-time student, a work study, working on weekends and being a youth leader at my church. I have the privilege of being an example to my son and others because of everything I have managed. I have overcome the statistic."
Without stopping for even a moment, Lee already is back at PTC working on a bachelor's in mechanical engineering technology through the SC State University Bridge Program. She hopes to become a mechanical drafter in the Greenwood area.
Aime Lorick of Saluda says she is fortunate to have had many great role models in her life, many of them teachers who have taken time to help her become the person she is today. The soft-spoken Lorick is working toward an associate in nursing and hopes one day to work in a labor and delivery setting. Eventually, she would like to earn a bachelor's in nursing.
It was only natural for Neeley Martin to enroll at PTC. Both of her parents are former students; her father graduated from the college's HVAC program decades ago. The Newberry resident likes PTC because it is affordable and close to home. She chose to enroll in the Early Care and Education Program because she hopes to later earn a bachelor's degree and devote her career to working in the school system. "It's amazing to watch children grow and learn," Martin said, "and I want to be part of the process."
Greenwood resident Te'yanna Mathis has been taking classes at PTC for about a year now en route to her associate degree. Then, as a participant in the Lander University Bridge Program, Mathis will seamlessly transfer to Lander to complete her bachelor's, possibly in marketing. She says her mother is her best role model.
"She has always stressed the importance of having an education and a degree," Mathis said. "She is also a successful career woman whom I look up to."
Alicia Middleton of Greenwood is aiming high while starting out modestly, working on an associate in arts degree at PTC to prepare her for enrollment in a four-year college. She plans to pursue a baccalaureate degree, and she isn't stopping there. She sees herself one day holding a PhD, using her experience and knowledge to positively influence young people and children.
Chris Rousey of Greenwood built a three-bedroom house this year, along with dozens of fellow students in the Building Construction Technology Program at PTC. It has been the highlight of his education so far.
"My class, we did all the plumbing in the house, the electrical, painting and trim," he said. "We did a lot of things in the classroom and shop, but it's not the same as in the house itself. You get to see it how you really will be doing it. That was really cool."
Rousey also enjoys crafting furniture and hopes to own his own carpentry business one day. All his efforts are rooted in setting a good example for his children. "I want them to see that hard work pays off," he said.
Tenisha Sayles is crafty. She enjoys crocheting, painting, drawing and just about any activity that involves creativity. That's why the Engineering Design Technology Program was a good choice for her. The Greenwood resident is grateful for the support of friends and family.
"My mother is the most influential person in my life," Sayles said. "She is always there for me, encouraging me to keep pushing forward and picking me up when I'm down."
Zachary Smith of McCormick is an HVAC major at PTC. He loves hunting, fishing, working out, playing paintball and racing. He decided to serve as a Presidential Ambassador "to represent the school and to help with future opportunities."
Reginald White is not your typical PTC student. At 51, he's old enough to be "dad" to most of the students around him. After graduating Ninety Six High School, he spent two semesters attending college on a football scholarship but dropped out when he realized he just wasn't ready to commit to his formal education. He then enlisted in the U.S. Marine Corps for several years before returning to the Greenwood area to work in security. That college itch remained unscratched, however, and in 2016, the civic-minded gentleman who often is first to volunteer for anything decided to begin coursework at PTC toward a human services degree. Eventually, White would like to obtain a master's in social work.
"This semester, I am attending my first internship with the Department of Social Services in Abbeville," White said. "I am committed to staying here in Greenwood County and serving in our community after graduation."
Associate Dean of Students David Rosenbaum advises the Presidential Ambassadors program at PTC.
"It is my privilege to witness the growth and maturity our Presidential Ambassadors achieve while serving the college," Rosenbaum said. "They continually demonstrate a positive attitude while they proudly promote their school to others. At the same time, each shares their personal story, which makes scholarship at PTC even more relatable."
The Presidential Ambassadors are a select group of second-year students who are chosen to represent the president, the college and their program of study. These students are selected on the basis of their academic achievement, college and community involvement, work ethic, leadership skills and willingness to serve the college.
GROUP PHOTO CUTLINE
Left to right (with residence in parentheses):  Aime Lorick (Saluda), Alayjah Davis (Calhoun Falls), Heaven Lee (Greenwood), Lula Berry (North Augusta), PTC President Dr. Ray Brooks, Latisia Gilchrist (Greenwood), Zachary Smith (Parksville), Alicia Middleton (Greenwood), Tenisha Sayles (Greenwood), Reginald White (Greenwood), Noel Johnson (Greenwood), Chris Rousey (Ware Shoals), Teyanna Mathis (Greenwood) and Neeley Martin (Newberry).