PTC Offers S.C.'s Only Accredited Funeral Service Program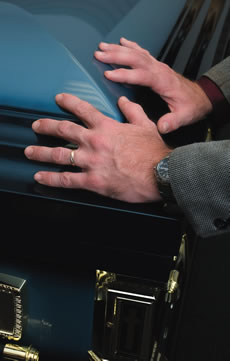 Dennis Carroll, an Army veteran and a 2008 Piedmont Technical College graduate, first became interested in Funeral Service while still in the military. 
"One of my jobs in the Army was to play Taps for military funerals, and that kind of tugged at my heart to serve families in that capacity," he said.
For Keisha Floyd, a 2010 graduate, it happened at the death of her brother as she worked with the funeral directors to plan his memorial service. 
According to David Martin, program coordinator, and Dedrick Gantt, funeral service education instructor, students become interested in funeral service in too many different ways to count. But whether it's a desire for a rewarding career or a good experience with a caring funeral service professional, most find that the personal fulfillment that comes from helping families cope with their grief make the job worthwhile.
There is always a demand for professionals trained in the field, regardless of economic conditions. And both Martin and Gantt agree that they'd like to hear from anyone considering entering the profession.
"If you're interested in becoming a licensed funeral director and embalmer, the South Carolina Center for Funeral Service Education at Piedmont Technical College is the place for you," said Gantt. 
A Regional Program
As the only program of its kind in South Carolina, and one of only a handful of public college programs in mortuary science in the United States, Piedmont Technical College's ABFSE-accredited Funeral Service Education program is well equipped to prepare students for a rewarding career in the Funeral Service industry. 
The program offers both an Associate in Applied Science degree and a certificate. 
The associate degree offers students the educational foundation needed to seek licensure in South Carolina or in another state, both as a funeral director and an embalmer. 
The certificate, which is available only online, was developed for students interested in becoming licensed funeral directors in the Carolinas. The courses in this program will prepare students to take the South and North Carolina Funeral Directors' Exams. 
"Our program is a state program, not just regional," Martin said. "Almost 90 percent of our students are from out of this area."
"But because we keep our classes small, you'll get personalized, hands-on instruction from our experienced, licensed faculty," he said. 
A Schedule Built for Convenience
"As the only program in South Carolina, we have students from all over the state as well as western North Carolina and parts of Georgia," said Gantt. 
He says that because many students already hold bachelor's degrees and are attending classes while working full time, it's important to offer classes that can accommodate a busy life.
"Our classes are scheduled two days a week to increase your flexibility as you complete your degree, and, for funeral service professionals, we offer distance learning opportunities for continuing education," he said.
Classes are scheduled two days a week to increase your flexibility as you complete your degree, and, for funeral service professionals, we offer distance learning opportunities for continuing education.
Freshmen attend classes Mondays and Tuesdays, while upper classmen have class Wednesdays and Thursdays. Classes generally run from 1pm to 6pm both days.
For Funeral Service alum Paula Patterson, the two day a week schedule made completing the program possible.
"It's harder to go to school the second time around because I'm married with three children," she said. "Working full time and going to school full time is a full load, but the two day a week classes really worked well for my schedule."
"When I started at Piedmont Tech in 2007, I actually had a bachelor's degree in education, so I was able to exempt a lot of the general education requirements—so I exempted my whole first year," Patterson said.
"We've also built in an online option for students who need even more flexibility," said Martin.
The certificate program is offered completely online, and all of the general education requirements for the associate degree are available online.
State of the Art Education
Students in the program learn the profession in a facility featuring state-of-the-art technology for embalming, cremation and restorative art.
The funeral service facility features a fully functional, custom designed Duncan Stuart Todd embalming lab that exceeds industry standards and includes the same cutting edge equipment found in modern funeral homes.
 "Our students are able to receive hands-on instruction in aspects of embalming that can't be taught at a practicum site," said Gantt.
Faculty members conduct embalming laboratories using a wide range of embalming instruments and preservation chemicals, giving students invaluable actual experience with the same kinds of scenarios they'll face on the job. 
The restorative art laboratory offers students hands-on experience in facial reconstruction and restoration for proper viewing. Laboratories featuring sophisticated modeling equipment and instruments are conducted by experienced licensed instructors.
The program is also equipped with a B & L pet crematorium—the first of its kind in any mortuary science program in the country.  This facility offers student students hands-on experience with the preparation of bodies and will allow them to graduate with a certification in cremation.  
"We're the first and only Funeral Service program in the country to offer Pet Cremation services," said Martin. "This not only offers practical experience for students, but also offers a service to the community." 
Students also get in-depth instruction in the business side of the industry, including courses in business and mortuary law, funeral service directing, and funeral service management and merchandising. 
"Our students plan, conduct, and direct a memorial service twice a year," said Martin. "They're learning every aspect of the business, from embalming and restorative art, to counseling and ethics."
"Graduates leave us fully prepared to go to work, ready to serve the community and help others in their greatest time of need," he said.