PTC Provides a Solid Start for a Career in Engineering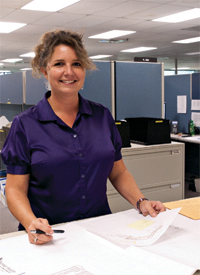 Tabby Davis is making her mark in the traditionally male-dominated world of engineering.
As a lead engineer for Product Applications at Eaton, Davis often finds herself the only woman in the room, providing technical training around the world. But, her journey began in a non-traditional way.
"I took drafting classes in high school and really loved those," Davis said. "I thought I wanted to be an architect, but I wasn't financially able to go to college."
Davis came to Piedmont Technical College in 1986 and earned an associate degree in engineering graphics technology in 1988. Through the job placement services at PTC, she began working at Westinghouse in the drafting department. After 16 years, she realized that she needed more education in order to advance. So, she came back to Piedmont Tech and in 2003, received her bachelor's degree in electrical engineering technology offered through the articulation agreement with South Carolina State University.
"Engineering is my field, but there was no way I could have earned my four-year degree and continued to work without the South Carolina State program," Davis said.
With her training, Davis now travels all across the United States and the world, doing sales and training for Eaton.
"The engineering technology training I received at Piedmont Tech has been essential in providing training to companies that purchase our products," she said. "I am able to read drawings, do measurements and answer technical questions. This is especially helpful when products we sell like the busways have to have exact measurements in order to fit and operate correctly."
Davis is also giving back to the college. She has been a featured speaker at the Girls Achieving in Technology and Engineering (GATE) summer program, a summer engineering technology camp exclusively for rising 10th, 11th and 12th grade female students.
"The GATE program is great because it is taking the time to focus on girls and show them that engineering is not just for the boys anymore," she said.
Davis credits Piedmont Technical College for helping her achieve her dreams. She cites the location and affordability as the main draws.
"Piedmont Tech is a great place to get an affordable education. You can get a two-year degree and go straight to work with a local manufacturing company, engineering or architectural firm," said Davis. "If you choose, you can take it to the next level and continue with your four-year degree - either right away or after a few years of working in your field. Many companies have a tuition reimbursement program which will pay all or part of the cost. This is how I completed my B.S. in Electrical Engineering, and it has really paid off for me."