PTC Respiratory Care Program Offers Service to Area Children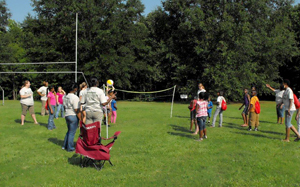 For a kid, it's hard to play when it's hard to breathe. But the respiratory care students at Piedmont Technical College are working to make it a little bit easier.
Camp Power Puffers celebrated its 14th year of providing a place for children with asthma to come and learn about controlling their condition while providing fun and games. Camp Power Puffers was launched in 1998 with 22 children taking part. While the camp has since expanded in scope to involve a wealth of community resources, enrollment remains around 40 to allow for one-on-one training. This summer, 48 campers attended, the largest number yet.
"The number of children being diagnosed with asthma is on the rise," said Jerry Alewine, dean of health science at Piedmont Tech and a registered respiratory therapist. "We work with these kids each summer to educate them about maintenance and control of this condition."
The camp is open to any child ages 5-12 at no charge. Information is sent to the area schools and doctors' offices. Each day begins with a check of the campers' peak flow – a measurement of the air flow through the lungs. A morning presentation follows that provides information to the children with guest speakers such as Cheryl Platt from The Children's Center and Heather Lane from Wellness Works. Then the campers are divided into groups to participate in activities and education.
"We want to teach them about nutrition, medications, signs and symptoms of an attack and potential triggers," said Alewine. "But, we also want to provide them with fun activities."
The activities include a water fun day and visits by vehicles from the Coronaca Volunteer Fire Department, Greenwood EMT, SC National Guard and the Saluda County Sheriff's Department.
The camp is a collaboration of the first and second year respiratory care students at Piedmont Tech. The students work as counselors, but the camp also serves as a good training project for those entering the field.
"The camp was very exciting," said Lacy Harrison of Abbeville. "It helped us get to know the kinds of patients we may be working with and how to handle them."
"They are regular kids," said Maryann Thompson of Newberry. "They love playing, but they are smart about asking questions about their conditions."
Alewine said that many of the kids who participate return and they have seen a measurable reduction in the number of emergency room visits for those children.
"They learn what the signs of an attack are and they learn what to do before it becomes serious," he said. "We are empowering them to be in charge of their own health."
"This camp would not be possible each year without the help of Piedmont Technical College and Self Regional Community Outreach," said Ann Allen, program coordinator for respiratory care. "I also want to thank all of our sponsors for their generosity."
Sponsors for this year's camp were Piedmont Technical College Respiratory Care Program, Self Regional Community Outreach, Jerry Alewine, Parrish Home Medical, Thomas and Howard, Capri's, Caravan, Miss Ann's Fried Chicken, Taco Bell, Chick-Fil-A, Burger King and McAlister's.
Photo Caption: At the annual Camp Power Puffers at Piedmont Technical College, respiratory care students work with asthmatic children on learning to control their condition while still participating in activities.