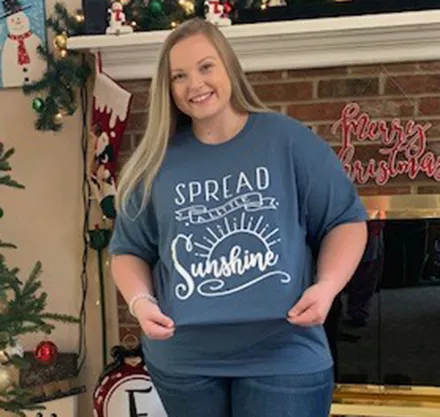 PTC Student Teacher 'Spreads a Little Sunshine'
It takes generous sunshine to make things grow, and one of student teacher Caroline Falls' first-graders was excited to report on his project documenting important milestones in his lifetime, that he had proudly grown his first tomato.
"Our timeline assignment went really well," Falls said. "We hung them up in the hallway. Every child put down the day they were born. Others noted things like 'I got my dog,' 'I had my dance recital' and 'I went to the mountains.' All these different things were important in their lives. It was so sweet. Everybody showed off their posters."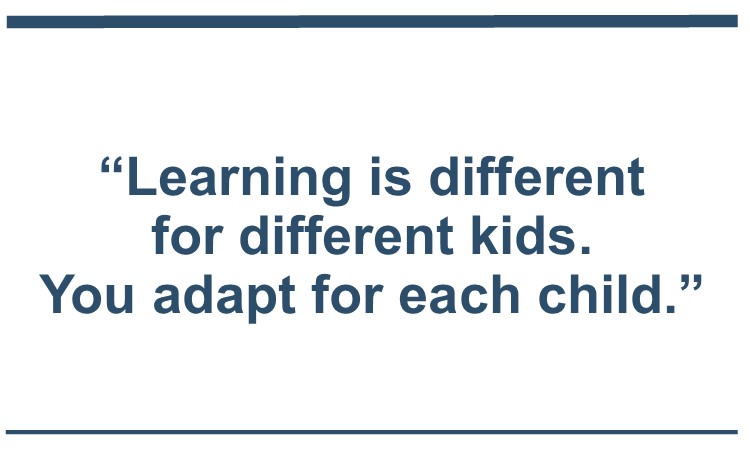 The Piedmont Technical College (PTC) early care and education major is taking some lovely memories with her from her time student teaching at Hodges Elementary School this semester. Her last day in the classroom was Nov. 20. Supervising teacher Kimber Burrell made sure it was a day full of both substance and joy.
On that last day, Burrell arranged for Falls to visit another first-grade classroom as well as a 5-year-old kindergarten classroom. Both visits made a strong impression on the budding educator.
"I paid particular attention to subtle details in each classroom. I watched their students' test-taking behavior. I noticed decorations in the classrooms," she said. In Sara Miller's first-grade classroom at Hodges Elementary, Falls was astonished to learn that the students could tell time on an old-fashioned, analog clock. "They knew about the big hand and the little hand. They are able to look at the clock and tell when it's time to go to lunch, time for recess or time to go home. They don't have to ask those questions every day. I liked that."
In Valerie Buchanan's 5K classroom, the students were working on drawings of how they could be good citizens. "They were drawing things like picking up trash, helping others and following rules," Falls said. "I jotted down notes of things I really enjoyed in the classroom and will probably use myself one day."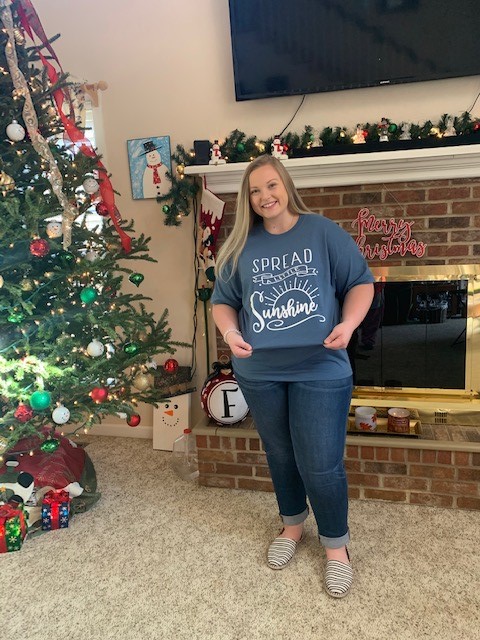 Falls still is touched when the children recognize her and excitedly rush up saying "Ms. C! You are here!"
"They were telling me stories," she said. "One girl talked about doing a cartwheel. Many had Elf-on-the-Shelf stories. It was thrilling. I was really pumped to be there."
During the children's physical education class, Ms. Burrell and Falls came along and got to dance with the students. It was a long, activity-packed day, and Falls was grateful for the opportunity to interact with children of different ages and unique cultures.
"I was so used to my own group of kids, and I was able to see other teaching scenarios and methods. Learning is different for different kids," she noted. "You adapt for each child."
Of course, before she knew it, it was time to say a bittersweet goodbye to her young charges. The students made cards for her that said "I love you," "I miss you," "Thanks for helping me read" and similar sentiments. The class had lots of other special surprises for her as well, including gifts of bracelets, markers, a Starbucks gift card and even some marbles. But that wasn't all.
"We have a song that we sing just about every day. It's called 'Spread a Little Sunshine,'" Falls said. "The whole class had a shirt made that says 'Spread a Little Sunshine' on it. And I started bawling!"
The PTC communications staff has been "shadowing" student Caroline Falls through her
field practice over the fall term and provided a series of updates on her experience, insights, challenges and epiphanies. One more concluding installment
in this series is coming soon.
###
PHOTO: Caroline Falls models the shirt her class made especially for her.