Public Safety Officer Honored as Campus Safety Officer of the Year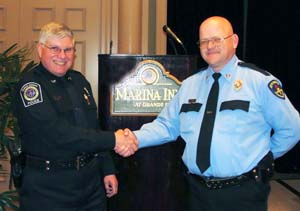 Captain Dan Fancote, a public safety officer at Piedmont Technical College, has been selected as the 2012 South Carolina Campus Safety Officer of the Year.
"Captain Daniel Fancote is an exemplary officer and well qualified to be named this year's SCCLEA Commendation of Excellence Award recipient," said Terry Ledford, director/chief of PTC's Department of Public Safety.
The award, presented by the SC Higher Education Foundation and the SC Commission on Higher Education, recognizes a campus safety officer through the South Carolina Campus Law Enforcement Association for extraordinary professionalism and dedication to the students, faculty and administration.
"It's an honor to be recognized by your peers, but I don't do this for the acclaim," Fancote said. "I believe in doing the job and making sure the students and employees are safe."
Fancote has been a member of the Public Safety Department for more than seven years where he began as a part-time contract security officer. Fancote worked with the department for two years, taking on extra responsibilities, and was soon promoted to captain over security.
"He had shown good leadership qualities; the officers, supervisors, and staff respected him and the decisions he made," said Ledford.
In January 2010, Fancote was brought on as a full-time employee of the college and Public Safety. During his tenure, he has developed the Piedmont Technical College Crime Window. This online tool allows anyone visiting the college Web site to view all crimes which have occurred on any of the seven campuses. If an incident link is clicked it not only shows what the incident was, it will pinpoint on a campus map where the incident occurred.
"This shows innovation and few, if any, other college Web sites have this ability," Ledford said.
Fancote has also developed many training programs for the security officers and holds a monthly training class to keep the officers up to date in the latest processes of their work. He was responsible for condensing a number of different reports, many of which were near duplicates of each other, to a workable number of three reports that can be used for many different types of incidents and investigations and set up these reports in a modern template format which mirrors the now nationally-used reports. He also assisted Ledford in the writing of new policies and procedures for the Public Safety Department.
"I'm only as good as the people I work with and I surround myself with the best," said Fancote. "I feel that's what we have here, from the chief down to our newest employee."
Photo Caption: Piedmont Technical College Public Safety Officer Daniel Fancote, right, is recognized by PTC's director/chief of Public Safety Terry Ledford for being selected as the 2012 South Carolina Campus Safety Officer of the Year.