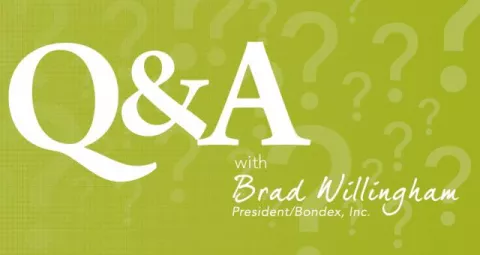 Q&A: Brad Willingham, President of Bondex, Inc.
What corporate training option did you/your company choose?
With pre-hire screening and training, we were able to pool a large group of possible new hires. readySC pre-screened, then we selected 12 candidates for four night, four hour training courses. From these courses, we were able to assess the candidates' capabilities, interaction skills and leadership skills in order to select a group of seven new hires. We believe all this has allowed us to better select and screen new hires for our plant expansion.
Why did you choose readySC™ as your training provider?
Prior to expansion, we searched for what assistance we could receive from the State of South Carolina in order to better prepare for and succeed in our expansion. [readySC's] was one of a couple of different assistance offers we received. Finding and selecting new hires is critical to the success of a new or existing company and this assistance helped us to get a good group of new employees.
What is the most valuable aspect of your partnership with readySC™?
The training program was tailored to the skill sets we were searching for in our new employees. Being able to see how they performed in these skills was critical to ensure we got the right people. Also, the classroom setting allowed us to see how they worked together and which ones exhibited future leadership skills—which is very difficult to assess in a one on one interview.
The ongoing dialogue, follow up and proactive approach from readySC staff helped make this a success.
How was your training customized to meet your company's needs?
After a couple of different meetings to identify the needed skills, readySC put together a training package for us to review that addressed our needs. It was a very creative package and one that also was engaging and not intimidating to the people participating.
Training was held at PTC in Edgefield, which is very close to our plant site, as well as conveniently located for Bondex and our prospective group of new employees. Also we have organized a future HAZWOPER course for subsequent testing at PTC which will be very convenient for next phase.
What long-term benefits do you foresee this training having on your business as a whole?
Employees are critical to any company's success. It's very important that you get the best people you can and the best training you can with new employees.
It's easy for companies to half-heartedly do something like this as they are busy and time is short, but readySC's proactive approach helped make sure it was done right. This is something you rarely see. I'd encourage anyone to call Susan Heath at readySC. You will not be disappointed.
About readySC
readySC is one of the state's top incentives for companies creating new jobs with competitive wages and benefits.  In fact, more than 85 percent of companies who've made the decision to relocate to South Carolina rank readySC's services as playing a significant role in their ultimate decision to move here.

Over the past 50 years, readySC has trained more than 265,000 individuals for jobs in our state for over 2,000 different companies.  Just last year the program trained 4,200 individuals for a variety of industries.  Today, readySC is working approximately 110 active projects.  These projects cover the spectrum from our state's most- to least-developed counties.  What's more, the reach is statewide.  readySC's current training roster includes candidates from each of South Carolina's 46 counties.
Recent projects in Piedmont Technical College's service area include:
ZF Transmissions

Bondex

Flame Spray

Nasmyth Precision Products

Asten Johnson

Center Manufacturing SC, Inc.

Dalkotech, Inc.

Fehrer Automotive

Norbord

SPF USA

Urban Outfitters