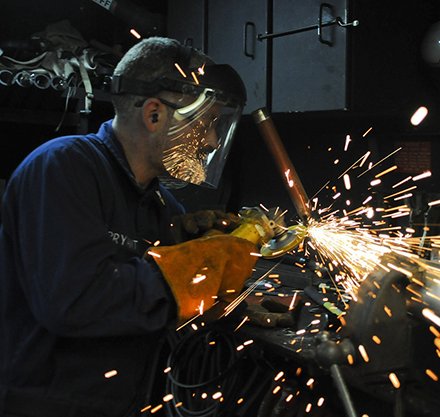 Quickskills Program Puts Students on Fast Track to Employment
June 12, 2018
When employers come to Piedmont Tech with their workforce wish lists, increasingly they are seeking candidates with very specific skills that can be learned relatively quickly and built upon over time. PTC, in turn, customizes its academic offerings to align with industry needs. Critical to this task is the college's Quickskills certification options, which teach very specific skill sets in as little as one semester. Graduates of these programs are ready to work in entry-level positions with room for advancement.
"We have added and continue to add short-term, Quickskills programs in response to the needs of business and industry, especially manufacturing," says Rusty Denning, associate vice president of economic development and continuing education at PTC. "Our industries are having a hard time finding people with certain specialties. Instead of full programs, we try to create shorter programs that fill that immediate need of local industries."
Denning offers as an example TIG (tungsten inert gas) welding, a specialized electric arc process that uses rods on thinner-gauge materials and is known for its precision and ability to weld dissimilar forms of metal. One area manufacturer almost exclusively uses TIG welding and sometimes struggles to find qualified welders locally. That's one reason PTC offers multiple Quickskills courses in TIG, MIG and STICK welding.
Other shorter-term Quickskills courses at PTC include Precision Metrology, Machine Tool CNC Precision Operator, Manufacturing Production Technician, Introduction to Automation, Masonry and CompTIA (equips students for basic computer technology-related work and qualifies them for the Computer Technology degree program).
"Right now, industry needs employees quickly," says Dr. Jack Bagwell, PTC's vice president for academic affairs. The emerging workforce no longer sets aside four or five consecutive, concentrated years to earn a degree that may or may not equip them to work right away in jobs where they are most needed. It's becoming more common that people are earning credentials in stages while they work and contribute to the economy. "It's like an interstate, and we are building on-ramps so people can get to their short-term destination. Of course, it may not be their ultimate destination." Bagwell says PTC works with industry advisory councils as well as analyzes workforce data to ascertain trends and needs.
"Technical colleges are providing the workforce for many industries," he says. In fact, most employers in the region are trying to fill jobs that require very technical skills. "This is exactly the kind of training technical colleges have been designed to deliver. Plus, we are providing the training in efficient and affordable ways."
"In many cases, prospective students are eligible for (state or private) financial aid to offset the cost of short-term courses," Denning says. For example, the Workforce Pathways Scholarship is a new tuition assistance program for those seeking training in information technology, advanced manufacturing and health care. "We are using Pathways Scholarships for some of the Quickskills classes."
Pathways applicants must be at least 18 years old and residents of South Carolina. PTC can schedule an orientation sessions at its Continuing Education office in Greenwood. Call 864-941-8400 for more information.
While federal programs currently don't extend financial aid for short-term education options, policymakers mindful of the strong workforce impact on our economy and who recognize the need for Quickskills are working to change that.
"The economy is cyclical, and so are the technical college curricula," says Bagwell. "We use short-term certificates when the economy demands it. You could even call it an economic indicator. … We try to give people skill sets so they can go out and get a good job."