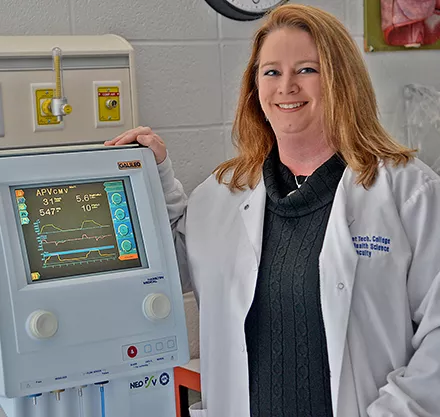 Respiratory Care Instructor Shares Her Passion with Students
Karla Gilliam knew from an early age she wanted to go into health care. Her passion for helping people led her to a position where she is preparing the next generation of respiratory therapists at Piedmont Technical College.
Like many people, Gilliam said she thought of nursing when she looked for a career in health care. She enrolled at a four-year university, but found the program to be too large and impersonal.
"The classes were so big, I didn't feel that the instructors cared about the students," Gilliam said.
Gilliam took a semester off and returned to Greenwood to enroll in the radiologic technology program at Piedmont Tech. At that time, though, the program was full and there was a waiting list.
"An advisor recommended I try the respiratory care program," she said. "To be perfectly honest, I knew nothing about what a respiratory therapist did when I enrolled in the program. But, it turned out to be one of the best decisions I ever made."
Gilliam found her passion with respiratory care.
"In nursing, you learn a little bit about a lot of different things," Gilliam said. "I love that I'm specialized in a certain area. We are considered experts in our field."
Gilliam graduated from the respiratory care program in 2003 and entered the workforce. As her love of the field grew, she wanted to share that passion with others. In 2005, Gilliam became an adjunct clinical instructor for the program. In 2009, she was named director of clinical education.
Gilliam earned her bachelor's degree and master's degree from American Intercontinental University. She said she doesn't miss working in the field because she feels she has the best of both worlds in her role as a teacher.
"Here, I can share my passion and teach other people how to do the job," she said. "But, I teach clinical, so I am still involved with patient care."
Gilliam said her work experience brings an added dimension to teaching in the clinical setting.
"When the students ask me why a skill is important, I can give them a specific situation that I have experienced to demonstrate the need for that knowledge," she said. "You can read about it in a textbook, but until you can apply it to a patient, it may not make sense."
For more information on the respiratory care program, call (864) 941-8533 or visit www.ptc.edu/respiratory.