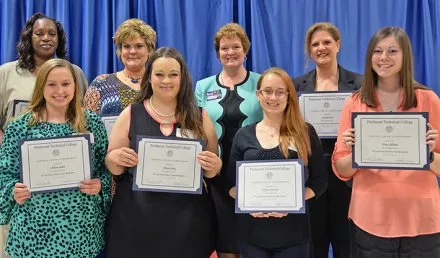 Scholarships Make Education a Reality for PTC Students
The Piedmont Technical College Foundation recently awarded more than $136,000 in scholarships to 173 students at the college's annual scholarship luncheon.
The PTC Foundation supports the college's priority of ensuring access to high-quality, affordable education by providing more than 80 unique scholarships each year for new and continuing students.
"Many of our students are the first from their families to attend college. Some come from challenging circumstances, juggling family, job and college responsibilities," said Fran Wiley, PTC assistant vice president for development. "For these students, the additional funding provided by scholarship assistance is critical to their success."
Scholarship recipients, faculty and staff were present to celebrate the generosity of the donors and to hear from scholarship students about how the awards will impact their studies.
Heather Benshoof, a human services major and a recipient of the Capsugel Endowed Scholarship, took a leap of faith when she chose to attend PTC, knowing that she'd need an education to better her circumstances. Her scholarship is helping her make her dream a reality.
"Because of Piedmont Tech, I now know, without a doubt, that I am capable of accomplishing far more than I ever imagined," she said. "Because of the support each of you gives to this college, I can honestly say you have taken a part in transforming not only my own life, but also many of the lives of the individual students that are sitting around you today."
"The Derrick Scholarship provided a financial sense of relief towards degree completion this semester, and it is confirmation that hard work truly pays off," said Rochelle Sullivan, a funeral service major.
Jonathan Thomas, a radiologic technology student, said, "I was awarded the Honeycutt Scholarship which is particularly satisfying because the donor was the late Virginia Honeycutt who was a patron of mine in Edgefield at the 'Grill' and at the Edgefield County Theatre Company. This scholarship in her name will see me through to finish my associate degree."
The PTC Foundation works to secure scholarships to match the diverse needs of the community. For example, there are program-specific scholarships, scholarships for career changers, and single-parent scholarships available, just to name a few.
"In many cases, even a small scholarship can make a huge difference for students," said Dr. Ray Brooks, president of PTC. "We'd like to sincerely thank our donors who give of themselves to make a quality education a reality for those in their community. They're ensuring that the dream of a better life remains attainable--and, in the process, they're building a stronger foundation for the economic vitality of the region as a whole."
For more information about the Piedmont Technical College Foundation, visit www.ptc.edu/foundation or contact Fran Wiley at wiley.f@ptc.edu. 
Photo Caption: The PTC Golf Classic Scholarship is just one of the 80+ scholarships available to students, ensuring access to high-quality, affordable education.