Student Teacher Asks 'What Would Burrell Do?"
During her first week of her field practice teaching experience at Hodges Elementary School, Piedmont Technical College (PTC) Early Care and Education Major Caroline Falls found great wisdom in the subtle things, like how to respond correctly and empathetically to a student posing an awkward question. In her first week in Kimber Burrell's first grade classroom, Falls constantly looked to the senior teacher to see how she handled various, sometimes uncomfortable situations.
"One child was asking, 'Do I have to wear a mask today?" And during MAP (Measure of Academic Progress) Testing, I had a child ask me for help. In this type of formal testing situation, we are not supposed to talk or help at all. I didn't know what to do," Falls said. But under Burrell's capable guidance, Falls handled it. "All I could say was to just do your best. It's little situations like that when I call to mind what Ms. Burrell would do."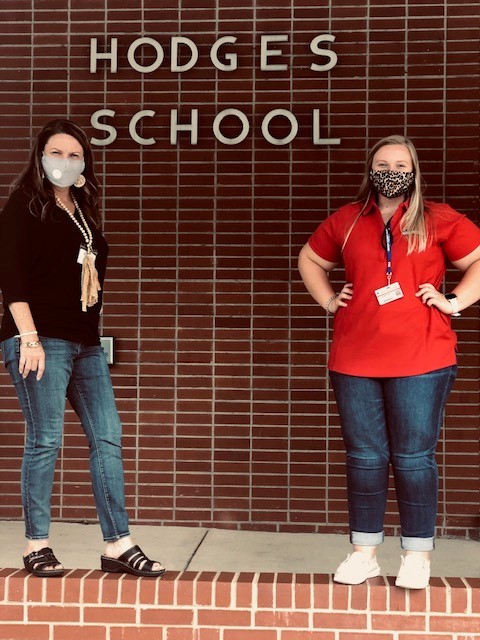 Falls' first week in Burrell's classroom left Falls in awe of her supervising teacher. Burrell made the simple act of reading to children absolutely magical.
"I got to observe her read 'Honey, honey-lion' by Jan Brett. It's about a honey badger and lessons related to sharing," Falls said. "Ms. Burrell was so into the book. She literally acted it out through her voice and mannerisms. If you could have seen those kids respond to it."
Falls was delighted when given the opportunity to read to the children herself. Her ability to engage them boosted her confidence.
"The kids were constantly asking questions. Not a single child didn't raise their hand," she said. "You want to continue reading the story, but you also want to hear what they have to say. You never know what will come out of their mouths because of their vivid imaginations."
While completing her field experience this semester, Falls has several goals, including improving her communication skills, both with the students and their parents. She often solicits advice from Burrell on this topic. Another goal is to achieve greater confidence in the classroom and to feel more comfortable with day-to-day teaching. "I crack a lot of jokes," Falls said. "When I get people laughing, I gain confidence."
Falls is grateful for this opportunity at Hodges Elementary and for the invaluable advice she receives from Burrell.
"She does a great job of expressing herself in the classroom," Falls noted. "It's clear she follows her own advice:  Present yourself well. Keep calm and don't be fearful."
PTC is "shadowing" student Caroline Falls through her field practice and will provide periodic updates on her experience, insights, challenges and epiphanies.
###
PHOTO:
Caroline Falls, right, with her supervising teacher at Hodges Elementary School, Kimber Burrell.