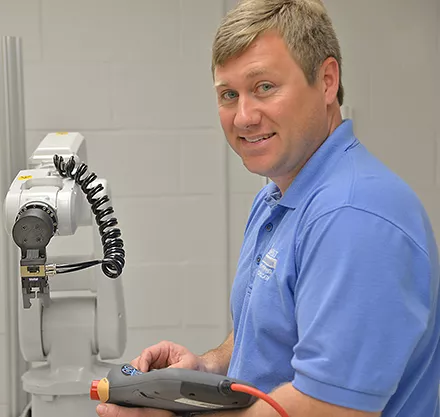 Teaching, a New Experience for Amaya
Engineering was always the dream career for Evan Amaya. He just never planned to teach it.
"I never thought I would ever teach in a million years," Amaya said. "It's not something that I ever considered doing."
Amaya grew up in Shelby, N.C. with aspirations of being an engineer. While touring the University of North Carolina at Charlotte with plans to enter the mechanical engineering program, an advisor introduced him to the mechanical engineering technology (MET) field. Amaya felt this was a better fit for him because the MET program was more hands-on, but it was part of a 2+2 program. With this new goal in mind, Amaya earned his associate degree in MET from Gaston Community College and his bachelor's degree from UNC Charlotte.   
Amaya took his degree and began working for a company that designed automobile parts. In 1998, he decided he wanted to branch out on his own. Amaya opened his own business repairing and restoring high-end cars.
"I've always been interested in cars and I've always worked on cars," he said. "Mechanical engineering and automotive fit well together."
 In 2010, the recession hit Amaya's business.
"We were still doing repairs, but people weren't buying toy cars or doing expensive restorations," Amaya said. "It was a good time to close down."
Amaya and his wife, Sharai, started looking for employment in South Carolina, her home state. A graduate of Erskine, Sharai knew the Lakelands area well and the couple was excited when she found employment with Self Regional Healthcare as an attending physician at The Montgomery Center.
But Amaya was still looking.
He found part-time work with Eaton Hydraulics and then was recruited to be an adjunct instructor for the automotive technology program at Piedmont Technical College. With the large number of students in the program, the part-time adjunct position became a full-time adjunct position, and Amaya left Eaton.
In 2012, Sandy Warner, department head for engineering technology, approached Amaya about teaching in the mechanical engineering technology program. He accepted the challenge and doesn't regret the decision.
"I enjoy what I'm doing," Amaya said. "I like teaching people and I love when the light bulb comes on. The most rewarding part is when the students who are having trouble and are trying really hard finally get it." 
For more information on the mechanical engineering technology program, call (864) 941-8410 or visit www.ptc.edu/engineering.