From USC to PTC: Criminal Justice Program Welcomes New Coordinator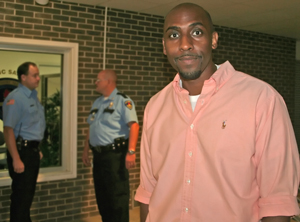 Joshua Lindsay has spent his career working to "protect and serve." Now he is ready to prepare the next generation of those who will enter the criminal justice system. He recently joined Piedmont Technical College as the program coordinator for the criminal justice program.
"When the opportunity opened up, I decided this is what I want to do for the long-term," Lindsay said.
Lindsay worked with Spartanburg Public Safety as both a police officer and a firefighter, serving in many capacities from patrol officer to narcotics investigator. From there, he joined the Greenville County Sheriff's office before joining the United Nations, working as chief of police for the UN mission in Kosovo. He returned to the United States and joined SLED, working as a field agent for the northwestern portion of the state. He moved on to the University of South Carolina Children's Law Center where he worked with the juvenile justice program.
"Being able to work for all those agencies, I was also assisting other agencies," he said. "It gives me the advantage of being familiar with many areas of the criminal justice system and makes me better able to help students decide which career they want to pursue."
Technology has been the biggest change to the system, Lindsay says, for not only the officers but for the criminals as well. Advances in technology have provided officers with more advanced tools, but they have also opened up new areas for criminals.
"Students are going to have to start learning more about white-collar crimes," he said. "Technology provides more ways for people to deprive people of different things."
Lindsay says he shares his experiences with his students, but only on a limited basis.
"We try to teach them evidence-based information and not personal experience because everyone has a different life experience," he said. "A real-life situation can illustrate a point, but I make sure they understand and can recite the information because it's embedded in them."
Lindsay says he wants to see the program expand and become one of the most respected in the state.
"I want the word to go out that Piedmont Tech is producing more competent students than anyone else in the state of South Carolina," he said. "We may not have the large numbers because of the size of our population, but our students can be more competent."
Lindsay graduated from Clinton High School and enrolled at South Carolina State University. He completed his bachelor's degree in 1998 in criminal justice and then earned his master's degree from the University of Cincinnati in 2006. He is currently pursuing his doctorate from Capella University.