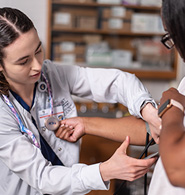 Medical Assistants greet patients, prepare them for exams and perform routine clinical tasks like taking patient history, collecting vital signs, and more. They also often help with the administrative tasks of running an office: answering phones, making appointments, computer and paperwork.
Credentials offered
A Career in Medical Assisting
As the demand for health care services continues to grow, physicians and other health care providers are in need of skilled and compassionate medical assistants to keep their practices running smoothly.
Medical Assistants are an important part of the daily operations in doctors' offices and other health care facilities.
As a graduate of PTC's Medical Assisting diploma program, you'll be prepared to start a successful career providing direct patient care that has a positive and memorable impact on patients and their well-being.
Special Application Requirements
The Medical Assisting program has special program admission criteria which must be completed prior to applying for the clinical phase of the program. A student may be admitted to the college at any time in order to complete prerequisite and general education coursework.
What Will I Do as a Medical Assistant
Medical assistants complete administrative and clinical tasks in the offices of physicians, podiatrists, chiropractors, and other health practitioners. Their duties vary with the location, specialty, and size of the practice.
Electronic health records (EHRs) are changing medical assistants' jobs. More and more physicians are adopting EHRs, moving all their patient information online. Assistants need to learn the EHR software that their office uses.
Medical assistants take and record patients' personal information. They must be able to keep that information confidential and discuss it only with other medical personnel who are involved in treating the patient.
Some job duties may include:
Take patient history and measure vital signs
Help the physician with patient examinations
Give patient injections as directed by the physician
Schedule patient appointments
Prepare blood for laboratory tests
Career Quick Facts
Career Outlook

Median Salary Average: $33,047
SC Salary Range: $25,080-$39,638
81% placement rate for 2020-2021 graduates

Salary and career information from the U.S. Bureau of Labor Statistics.

Physical Demands

active (much walking, standing) -- all day
lifting (up to 50 lbs)
manual dexterity
excellent vision/hearing
hand/eye coordination, accurate swift movements
computer work

Entry Level Positions

List of Employers

Recent graduates have found work at:

Abbeville Area Medical Center
Abbeville Family Healthcare - Chiropractic Care
Advanced Cardiology Associates
Advanced Health Care
Advanced Spine and Neurosurgical Associates
Advanced Surgical Associates
Agape
Anmed Health
Carolina Health Centers
Carolina Medical Weight Management
Carolina Women's Center
Carolinas Medical Center
Cecil Y. Brown, MD Family Practice
Chapin Family Practice
Compass Family Practice
Digestive Disease Group
Doctors Care
Dr. Camille L. Mason
Dr. Cecil Brown
Dr. McGinnis
Easley Family Practice
Family Health Care Center
Family Health Care – Ware Shoals
Family Medicine Associates
Family Medicine Centers of SC
Family Physicians of Greenwood
Greenwood Eye Clinic
Greenwood Genetic Center
Greenwood Internal Medicine
Greenwood Urological
Home Health Care
Internal Medicine of Greenwood
Lakelands Orthopaedic Clinic
Laurens Family Medicine
Lexington Medical Center
Martha Franks Baptist Retirement Community
Montague Eye Center
Montgomery Center
Newberry Family Health Care
Pathology Services Associates, LLC
Physicians Care
Piedmont Cardiology
Piedmont Health Group
Piedmont Internal Medicine
Piedmont Plastic Surgery
Savannah Lakes Medical Center
Self Regional Healthcare
The Children's Center
The Children's Clinic
Tower Pointe Medical Center
Uptown Family Practice
White Oak Manor
Program Information
The Medical Assisting program prepares a multi-skilled graduate to function in clinical and administrative areas of the physician's office and ambulatory care centers. The program will prepare you to be competent in both administrative and clinical procedures.
Medical Assisting graduates may earn the CMA (Certified Medical Assistant) credential by passing the National Certifying examination.
The Medical Assisting program is accredited by the Commission on Accreditation of Allied Health Education Programs.
Video