Diversified Agriculture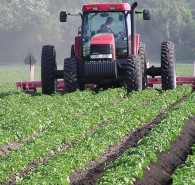 As the only two-year program of its kind in South Carolina, Piedmont Technical College's Diversified Agriculture program offers the hands-on training and in-depth classroom instruction necessary to understand and master the daily requirements of a career in agriculture.
Featured Profile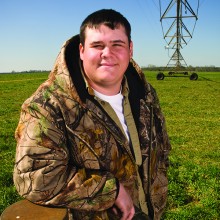 Diversified Agriculture Major
Graduation Date: 2012
Miller said he would recommend the program to anyone wanting to begin their education close to home. "By coming to Piedmont Tech, you can save money over attending a four-year university," he said. "You can take classes here and enjoy them. You get more hands-on time and more one-on-one time with the teacher."
Career Information
Career Tracks
100% placement rate for 2014-2016 graduates
The agribusiness industry is a major job producer, with direct and indirect employment of 199,469 of the State's jobs.
Entry Level Positions
Operate a farm or a greenhouse
Raise livestock, poultry or other animals
Operate a post-harvest operation such as a packing house or a grain mill
Resources
Program Information
Located in agriculture-rich Saluda County, the curriculum offers the hands-on training and in-depth classroom instruction necessary to understand and master the daily requirements of a career in agriculture.
The program has been developed in collaboration with some of the major agribusinesses in the region, so you can be sure that you'll be qualified to enter the work force with the skills that employers need, or to operate a farm of your own after graduation.
A Career in Agriculture
Agriculture-based businesses play a critical and expanding role in the growth of South Carolina's economy.
According to the South Carolina department of agriculture, farming generates over two billion dollars a year at the farm level, but the impact on the state's economy goes far beyond the farm gate. Agriculture has a direct and indirect economic impact of $33.9 billion a year, provides $7.5 billion in labor income.
Graduates of the Diversified Agriculture program will be well prepared to manage related businesses in production, marketing and utilization. 
High Technology. Hands-on Experience.
As a student in PTC's Diversified Agriculture program, you'll learn firsthand how computers and precision agriculture technology are driving efficiency and productivity into the future, and you'll learn from successful farmers who are involved in cutting-edge production agriculture. We know that it's critical for students to get hands-on experience applying what they've learned in the classroom.
You'll get direct experience on working farms throughout the region during the course of your studies.
A Solid Foundation for a Bachelor's Degree
If you're headed toward a bachelor's degree, the Diversified Agriculture program offers transfer paths to prominent agriculture programs like the ones at Clemson University and Abraham Baldwin Agricultural College.
Starting at PTC has some definite advantages.
You'll get an associate degree and an in-depth understanding of the business before transferring. You'll also get priceless real-world experience in production agriculture that will give you an advantage when you're ready to enter the work force. Best of all, because PTC's tuition is the lowest in the region, you'll save thousands in tuition and fees by completing your first two years with us.
Locations:
Video