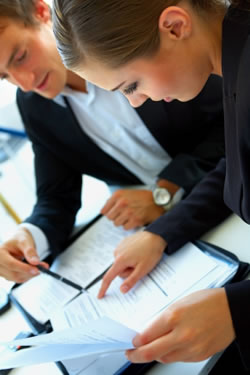 In today's global business environment, opportunities are limitless for those with the right mix of leadership, organizational and team building skills. If you're a good communicator who enjoys solving problems, a career in business might be right for you.
A Career in Business
Because of the wide variety of careers available to business majors, opportunities for employment are good; you could find employment with any company that needs office workers. And if you choose to further your studies after you complete your associate degree, opportunities for advancement are excellent. In fact, employment for business and financial occupations is expected to grow by 8 percent through 2024 according to the U.S. Bureau of Labor Statistics.
What Can I Do with a Business Degree?
Depending on the career path you choose, you could perform an extremely wide variety of job functions — from clerical work to management. For example, those with an Accounting concentration could classify and verify numerical data, develop and maintain financial records following guidelines established by the company. In small organizations, you may do some general office work. In large organizations, you might specialize in one type of activity, such as payroll or accounts payable.
Some of your Responsibilities May Require you to:
Analyze financial activities of establishments or departments and provide input into budget planning and preparation processes
Compute figures such as balances, totals and commissions
Consult with managers and other personnel to resolve problems in areas such as equipment performance, output quality and work schedules
Coordinate activities with other supervisory personnel and with other work units or departments
Participate in the work of employees to facilitate productivity or to overcome difficult aspects of work
Career Quick Facts
Career Outlook

Median Salary Average: $38,580
SC Salary Range: $33,900-$58,640
83% placement rate for 2020-2021 graduates

Salary and career information from the U.S. Bureau of Labor Statistics.

Physical Demands

sitting a great deal
generally moving about an office environment
some light lifting (files, etc.)

Entry Level Positions

Bookkeeping
Accounting
Auditing Clerk
Program Information
By carefully selecting appropriate electives, Piedmont Technical College's business students can prepare for the specific aspect of business they wish to pursue. Elective courses are available that lead to a degree in Business Administration with concentrations in Accounting, Management, and Human Resource Generalist.
Transfer opportunities — through both our general transfer curriculum or specific agreements — exist for those who'd like to continue their studies with a bachelor's degree. Students should contact their advisor as early as possible to explore transfer options. Our certificate in Accounting provides students with a specialized body of knowledge in this subject area. And our Entrepreneurship certificate is designed to give students the basic business concepts necessary to start and operate their own small business.
Video