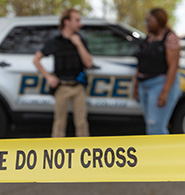 People depend on law enforcement officers to protect their lives and property and to maintain order. Whether they're state or federal agents, police or sheriff's officers, or corrections officers, all law enforcement careers require a gift for understanding others, good critical thinking skills and a desire to serve the community.
Credentials offered
A Career in Criminal Justice
The Criminal Justice associate degree program is designed to prepare professionally-educated and competent criminal justice practitioners for careers within the criminal justice system. During your studies, you'll examine a broad spectrum of criminal justice concepts and theories and complete an internship to learn the connections between criminal justice theory and practice.
What Can I Do with a Degree in Criminal Justice?
Some entry level positions include: police officer, deputy, dispatcher, corrections officer, trooper, private security officer, juvenile court officer and probation technician. Your duties could involve patrolling a specific area on foot or in a vehicle, directing traffic, issuing traffic summonses, investigating accidents, apprehending and arresting suspects or serving legal processes of courts. You could also be responsible for guarding inmates in penal or rehabilitative institutions and for guarding prisoners in transit between jail, the courtroom and prison.
Some of your Responsibilities May Require you to:
Evaluate complaint and emergency-request information to determine response requirements
Identify, pursue and arrest suspects and perpetrators of criminal acts
Process prisoners and prepare and maintain records of prisoner bookings and prisoner status during booking and pre-trial process
Review facts of incidents to determine if criminal acts or statute violations were involved
Testify in court to present evidence or act as witness in traffic and criminal cases
Arrange daily schedules for prisoners including library visits, work assignments, family visits and counseling appointments
Investigate crimes that have occurred within an institution or assist police in their investigations of crimes and inmates
Career Quick Facts
Career Outlook

Median Salary Average: $40,190
SC Salary Range: $32,280-$50,880
80% placement rate for 2020-2021 graduates

Salary and career information from the U.S. Bureau of Labor Statistics.

Physical Demands

mildly active (some walking, standing, moving about)
lift to 50 lbs.

Entry Level Positions

Police Officer
Deputy
Corrections Officer
Trooper

List of Employers

Recent graduates have found work at:

Abbeville Area Medical Center
Abbeville County School District
Abbeville Police Department
Accounting Systems
American Security
Ametric
BF Goodrich
Bloomfield Broadcasting
Blue Acorn iCi
Blue Cross / Blue Shield
Brightball
Carolina Health Centers
City of Newberry
Columbia Police Department
Computer Dynamics
Covidien
Cryovac
Dell Corporation
Department of Corrections
Department of Social Services
Direct Outbound
Dixie Electronics
Electrolux Home Products
Erskine College
Flexible Technologies
Fuji Film
Galloway Methodist
General Electric
Greenville County
Greenwood County Detention Center
Greenwood Genetic Center
Greenwood Mills
Greenwood Packing Plant
Greenwood School District 50
Greenwood.Net
Harsco
Hexcel
ID Shop
InSite Support
JES Restaurant Equipment
John de la Howe School
Kyros Corporation
Lakelands Orthopaedic Clinic
Lander University
Leath Correctional Institute
Lonza
Magnolia Manor
Merrywood Elementary School
Midlands Orthopaedics
Mita
Monster
Morgan Advanced Materials
NC State
Newberry County Police Department
NuVox Communications
Palmetto Bank
Palmetto GBA
Park Seed
Park Sterling Bank
Piedmont Technical College
Prysmian
QS/1
Saluda School District One
Self Regional Healthcare
Simple PC
Sitel
South Carolina Budget & Control Board
South Carolina Department of Juvenile Justice
South Carolina Department of Mental Health
South Carolina Law Enforcement Division
South Carolina Vocational Rehabilitation Department
Spartanburg County Detention Center
SPF North America
St. Francis Health Care System
Support.com
T-Mobile
TD Bank
Technesis
The McCravy, Newton, & Sturkie Law Firm, P.A.
Trinity Hospital of Augusta
Unisys
United Health Care
Urban Outfitters
US Food Service
Velux
Verizon Wireless
Wangner Corporation
Program Information
The Associate in Applied Science with a major in Criminal Justice program is designed to prepare professionally educated and competent criminal justice practitioners for careers within the criminal justice system.
Our criminal justice program provides highly effective training environments, including: A state-of-the-art lab, featuring driving and firearm simulators; Software that aids in the sketching of suspects; A new mobile crime scene training unit; Crime scene reconstruction software; and Digital cameras and more.
The college has also developed several agreements with four-year colleges and universities that allow graduates to bridge their associate degree into a bachelor's degree. These programs provide a seamless and affordable pathway to a higher degree in criminal justice.