Administrative Office Technology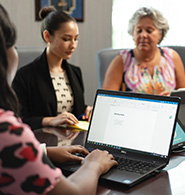 The Administrative Office Technology major prepares students to work in the modern office. Instruction in the software packages commonly used in office environments, telephone training, information processing, accounting and other business skills will give you the ability to work independently and take full responsibility for handling the details of office administration.
A Career in Administrative Office Technology
The role of the administrative professional has evolved a great deal over the years as the use of technology and office automation has continued to expand in offices.
In spite of these changes, however, the core responsibilities for secretaries and administrative assistants have remained basically the same: Performing and coordinating an office's administrative activities and storing, retrieving and integrating information for dissemination to staff and clients.
According the U.S. Bureau of Labor Statistics, employment opportunities for administrative professionals are expected to increase through 2024. Among specialties, medical records technicians are expected to have faster than average employment growth.
What Will I Do as an Administrative Professional?
Administrative assistants perform a variety of tasks to assist professional staff members and to maintain smooth and efficient office operation. They monitor day-to-day office operations and set up and maintain schedules. In addition, they operate a variety of office machines and equipment to process and facilitate internal and external correspondence.
Entry level positions could include: administrative assistant, legal secretary, medical secretary, bookkeeper, data entry clerk, typist, office manager, accountant assistant, and much more.
Some Job Duties May Include:
Answer telephones and give information to callers, take messages or transfer calls to appropriate individuals
Collect and disburse funds from cash accounts, and keep records of collections and disbursements
Complete forms in accordance with company procedures
Compose, type and distribute meeting notes, routine correspondence and reports
Greet visitors and callers, handle their inquiries and direct them to the appropriate persons according to their needs
Career Quick Facts
Career Outlook

Administrative Assistant

Median Salary Average: $35,450
SC Salary Range: $23,910-$47,240
84% placement rate for 2020-2021 graduates

Medical Records Technician

Median Salary Average: $36,760
SC Salary Range: $28,160-$72,430

Salary and career information from the U.S. Bureau of Labor Statistics.

Physical Demands

sedentary
general moving about an office environment
light lifting (boxes of papers, files, etc.)

Entry Level Positions

Administrative Assistant
Data Entry Clerk
Customer Service Representative
Office Manager
Medical Secretary
Legal Secretary

List of Employers

Recent graduates have found work at:

1st Franklin Financial
Abbeville Area Medical Center
Abbeville Seaboard Federal Credit Union
Advance America
Ala's
American Cancer Society
Amick Farms
AnMed Health
Bank of America
BB&T
Bi-Lo
Blue Ridge Companies
Burger King
Calhoun Falls Charter School
Carolina Health Systems
Carolina Medical Weight Management
Carolina Packaging
Carolina Sinus Center
Chapin Family Practice
Charter Communications
Check Into Cash
Clemson University
Cole Law Firm
Community Long-Term Care
Compass Family Medicine
Concentrix
Connie Maxwell Children's Home
County Bank
Davis and Floyd
Department of Transportation
Digestive Disease Group
Edgefield County Hospital
Elliott Davis, LLC
Emerald Credit Association FCU
Family Dollar
First Citizens Bank
Fiserv
Founders Federal Credit Union
Fuji Photo Film
General Information Services
Georgia-Pacific
GLEAMNS
Greenville Hospital System
Greenwood County
Greenwood Genetic Center
Greenwood Internal Medicine
Greenwood Music
Greenwood OB/GYN
Greenwood Packing Plant
Greenwood School District 50
Greenwood Surgical Associates
H & R Block
HospiceCare of The Piedmont
Howe & Rice Attorneys
IDEAL HR
InSite Support Services
Jackson Hewitt
Josten's
JW Yonce and Sons Farms
Key Benefit Administrators
Kimura
Kinard Control Systems
Las Vegas Radiology
Laurens County Health Care System (Now Prisma Health)
Laurens Electric Co-Op
Laurens School District 55
Laurens Sheriffs Department – Change to Laurens County Sheriff's Department
Lexington Extended Care
Lexington Medical Center
Lonza
M & M Income Tax
McCormick School District
McDonald Patrick Law Firm
Medical Services of America
Newberry County Council on Aging
Milliken & Co.
Montgomery Center
Montgomery Eye Associates
Moore Center for Orthopedics
New Haven Apartments
Newberry County Memorial Hospital
Newberry County School District
OneMain Financial
Ouzts-Tinney Chiropractic & Spinal Rehabilitation
Palmetto Dental Associates
Park Seed
Pathology Services Associates, LLC
Piedmont Cardiology
Piedmont Health Group
Piedmont Neurology Associates PA
Piedmont Pediatrics
Piedmont Rural Telephone Company
Piedmont Technical College
Pinner Clinic
Provident Community Bank
PSA Medical Billing
Quest Diagnostics
Randall Williams, Attorney
Red Lobster
Regions Bank
Renaissance RX
RP Field Services
Saluda County Summary Court
Saluda District One
Saluda Nursing Home
Scott's Furniture Co.
Self Medical Group
Self Regional FCU
Self Regional Healthcare
South Carolina Department of Transportation
South Carolina Medical Management, LLC
South Carolina Vocational Rehabilitation Department
Southeastern Freight Line
Southeast Federal Credit Union
Southern Urogynecology
Spinx
Stokes-Trainor
Sun Printing
TD Bank
The Law Office of Joshua Nasrollahi
The Self Foundation
Tinsley & Adams
Titan Farms
TitleMax
Tower Pointe Medical Center
Town of Calhoun Falls
Trucast
Turner & Burney Law Firm
Turning Point Women's Center
Twilley Seed Co.
United States Department of Agriculture
Velux
Verizon Wireless
Vulcan Materials Company
Walgreen's
Wal-Mart
Whitten Center
Willson, Jones, Carter & Baxley, PA
Program Information
Developing skills in keyboarding, word processing, spreadsheet applications, information management, dictation and transcription, Administrative Office Technology graduates provide a service necessary to the efficient operation of every business, industry and agency. Actual work experience gained in an area of business or industry gives the student an opportunity to assume on-the-job responsibilities even before graduation. During this two-year course of study, students choose electives in the field of work in which they are most interested. The student may choose an accounting, legal, medical or medical coding/billing concentration.
State Licensure Eligibility Information
Video