Funeral Service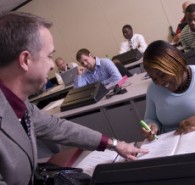 As the only program of its kind in South Carolina, and one of only a handful of public college programs in mortuary science in the United States, Piedmont Technical College's ABFSE-accredited Funeral Service Education program is well equipped to prepare students for a rewarding career in the Funeral Service and Mortuary Industry.
Featured Profile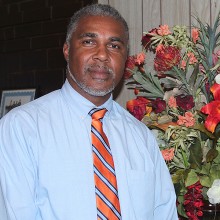 Funeral Service Major
Graduation Date: May 2011
Fernandez earned his bachelor's degree in elementary education from North Greenville and began teaching for the Cherokee County School District. After 20 years in education, though, the interest in funeral service was still there. "Since funeral service was still in the back of my mind, I thought it had to be a calling for me to pursue," he said. "Then I found out Piedmont Tech had a funeral service program."
Career Information
Career Tracks:
Entry Level Average: $28,230 per year
Entry Level Range: $20,000 - $38,000
71% placement rate for 2014-2016 graduates
Employment in cities and towns of all sizes
Entry Level Positions:
Funeral Director
Embalmer
Funeral Home Manager
Work in a funeral home, mortuary, or hospital pathology lab
Program Information
The Funeral Service program offers both an Associate of Applied Science degree and a certificate.
The associate degree offers students the educational foundation needed to seek licensure in South Carolina or in another state, both as a funeral director and an embalmer.
The certificate, which is available only online, was developed for students interested in becoming licensed funeral directors in the Carolinas. The courses in this program will prepare students to take the South and North Carolina Funeral Directors' Exams.
Flexible Scheduling
Because many funeral service students at PTC already hold bachelor's degrees and are attending classes while working full-time, we know it's important to offer classes that can accommodate a busy life. Our classes are scheduled two days a week to increase your flexibility as you complete your degree. For funeral service professionals, we offer distance learning opportunities for continuing education.
Freshmen attend classes Mondays and Tuesdays, while upper classmen have class Wednesdays and Thursdays. Classes generally run from 1pm to 6pm both days.
The certificate program is offered completely online, and all of the general education requirements for the associate degree are available online.
State of the Art Facilities
Students in the program learn the profession in a facility featuring state-of-the-art technology for embalming, cremation and restorative art.
The funeral service facility features a fully functional, custom designed Duncan Stuart Todd embalming lab that exceeds industry standards and includes the same cutting edge equipment found in modern funeral homes.
The restorative art laboratory offers students hands-on experience in facial reconstruction and restoration for proper viewing. Laboratories featuring sophisticated modeling equipment and instruments are conducted by experienced licensed instructors.
The program is also equipped with a B & L pet crematorium—the first of its kind in any mortuary science program in the country. This facility offers student students hands-on experience with the preparation of bodies.
Locations:
More Photos
Video