Engineering Design Technology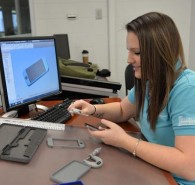 All phases of manufacturing or construction require the conversion of new ideas and design concepts into the basic line language of graphics. Therefore, there are many areas (civil, mechanical, electrical, architectural and industrial) in which the skills of the CAD technicians play major roles in the design and development of new products or construction
Featured Profile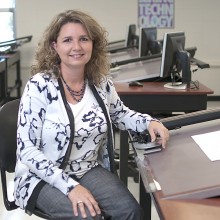 Engineering Design Technology Major
Graduation Date: 1988
Tabby Davis is making her mark in the traditionally male-dominated world of engineering. As a lead engineer for Product Applications at Eaton, Davis often finds herself the only woman in the room, providing technical training around the world.
Students prepare for actual work situations through practical training in a new state-of-the-art computer designed CAD laboratory using AutoCAD, and other advanced CAD software.
Specific skills mastered by Engineering Design Technology majors include the production of mechanical, architectural, electrical and civil drawings both with traditional drafting machines and state-of-the-art computer aided drafting (CAD) systems, and the selection and design of architectural and mechanical systems. The senior year includes advanced CAD techniques using solid modeling, wire frame and assembly techniques. Internship opportunities may also be available with local industries for senior EDT students.
Career Information
Career Tracks
salary average: $53,480 per year according to the US Department of Labor. 
97% placement rate for the 2014 - 2016 graduates
Entry Level Positions
surveyor
CAD/CAM operator
drafter
designer
associate engineer
Locations: