Engineering Design Technology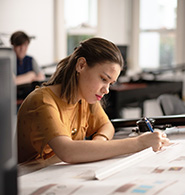 All phases of manufacturing or construction require the conversion of new ideas and design concepts into the basic line language of graphics. Therefore, there are many areas (civil, mechanical, electrical, architectural and industrial) in which the skills of the CAD technicians play major roles in the design and development of new products or construction.
Credentials offered
A Career in Engineering Design Technology
Engineering design faculty meet with a program advisory board that is made up of employees from industrial and engineering companies in the region. These meetings help instructors stay aware of the training needs of local industry and ensure that students are getting the skillset needed for a career in today's job market.
After completing the program, you'll be qualified for positions like:
CAD/CAM Technician
Drafter
Designer
Associate Engineer
Lead Designer
Mechanical Designer
CAD Designer
Electrical Drafter
Advancement to positions in engineering or management is likely with experience and possibly further education.
What is Engineering Design Technology?
All phases of manufacturing or construction require the conversion of new ideas and design concepts into the line language of engineering drawings. So there are many areas of engineering in which the skills of engineering design professionals play major roles in the planning and development of new products or construction.
In the Engineering Design Technology program, you'll learn to produce mechanical, architectural and electrical drawings both with traditional drafting machines and state-of-the-art, computer-aided drafting (CAD) systems. You'll also learn about the selection and design of industrial and mechanical systems.
Career Quick Facts
Career Outlook

Median Salary Average: $69,360
SC Salary Range: $54,100-$95,430
100% placement rate for 2020-2021 graduates

Salary and career information from the U.S. Bureau of Labor Statistics.

Physical Demands

mobility to move in a manufacturing setting
light lifting (up to 20 lbs.)

Entry Level Positions

Surveyor
CAD/CAM Operator
Drafter
Designer
Associate Engineer

List of Employers

Recent graduates have found work at:

Aiken Electrical Cooperative
Arrow Hawk Inc
Ascend
AT&T
Austin International
Baldor Electric Company
BMW Manufacturing Corp
Burnstein von Seelen Corporation Precision Casting
Cardinal Health
Carolina By Products
CCL Label
Ceramtec
CMS Industrial Technology
Colgate-Palmolive
Commissioners of Public Works
Digital Office
Dominion Energy
Duke Energy
Eaton Corporation
Flexible Technologies
Fuji Film
General Electric
Greenville Health System (now Prisma)
Greenwood Fabricating & Plating, LLC
Greenwood Mills
Item Southeast
Kinard Control Systems
Komatsu
Lonza
Michelin
Michelin Laurens Proving Grounds
Milliken
Mungo Homes
New Horizon Electric Cooperative, Inc.
Norbord
Northland Cable
Palmetto Electrical
Piedmont Technical College
Prysmian
Trantech
Velux
Walmart Distribution Center
West Carolina Rural Telephone Incorporated, Inc.
ZF Transmissions
Virtual Tour
Program Information
Students prepare for actual work situations through practical training in a new state-of-the-art, computer-designed CAD laboratory using Inventor, SOLIDWORKS and other advanced CAD software.
Coursework includes:
Engineering Technology Applications and Programming
Introductory and Advanced Computer-Aided Drafting (CAD) Courses
Architectural and Mechanical Drawing Applications
Engineering Graphics
Computer Integrated Manufacturing
Rapid Prototyping
3D Modeling Systems and Computer-Aided Manufacturing (CAM)
Coursework is strongly application-oriented and includes hands-on labs and project experiences. The senior year includes advanced CAD using 3D modeling and CAM systems.
This program is accredited by the Engineering Technology Accreditation Commission of ABET.
Video