Emergency Medical Technician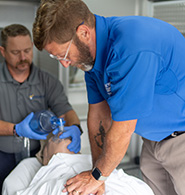 The Emergency Medical Technician (EMT) is a vital link in the health care chain. Emergency Medical Technicians (EMT) are employed in areas such as emergency ambulances, private non-emergent transport services, clinics, and other allied health care settings.
Credentials offered
Career Quick Facts
Career Outlook

Median Salary Average: $27,560
SC Salary Range: $19,850-$43,280
59% placement rate for 2019-2020 graduates

Physical Demands

work is both physically strenuous and stressful
great amount of standing, kneeling, bending and lifting
on call for extended periods of time

Entry Level Positions

Emergency Medical Technician
Paramedic

List of Employers

Recent graduates have found work at:

Ambu-Star Ambulance
Greenville Health System
Laurens County EMS
Medtrust Medical Transport
Program Information
The aging population of the US is driving this demand for additional Emergency Medical Technicians (EMT). As the population ages the increase in the age related health emergencies, such as heart attack and strokes will subsequently also increase. This will ensure a continuous demand for part-time, volunteer, and full-time EMTs in rural areas and smaller metropolitan areas. 
Piedmont Technical College's Emergency Medical Technician (EMT) program combines classroom learning and extensive practical hands-on labs. Graduates of the program will be eligible to sit for the National Registry Exam for EMTs.
Video