Emergency Medical Technician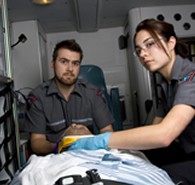 The Emergency Medical Technician (EMT) is a vital link in the health care chain. Emergency Medical Technicians (EMT) are employed in areas such as emergency ambulances, private non-emergent transport services, clinics, and other allied health care settings.
Career Information
Career Tracks:
Entry Level Average: $22,610
Entry Level Range: $21,000 - $42,000
Entry Level Positions:
EMT
Paramedic
Emergency Room Technician
Program Information
The aging population of the US is driving this demand for additional Emergency Medical Technicians (EMT). As the population ages the increase in the age related health emergencies, such as heart attack and strokes will subsequently also increase. This will ensure a continuous demand for part-time, volunteer, and full-time EMTs in rural areas and smaller metropolitan areas. 
Piedmont Technical College's Emergency Medical Technician (EMT) program combines classroom learning and extensive practical hands-on labs. Graduates of the program will be eligible to sit for the National Registry Exam for EMTs.
Locations: