Occupational Therapy Assistant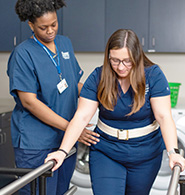 Piedmont Technical College's Occupational Therapy Assistant program provides relevant training for students in South Carolina who are planning on a career in the field of Occupational Therapy.
Credentials offered
A Career as an Occupational Therapy Assistant
As only one of four two-year programs in South Carolina, Piedmont Technical College's Occupational Therapy Assistant (OTA) program is a great option for students seeking this in-demand training in the Upstate and Midlands.
Demand for OTA's is high across the country and especially in South Carolina. The career also offers excellent pay, and good local employment prospects, making the program a great choice for anyone with an interest in health care, and in helping others improve their lives.
The job outlook for this occupation is far above average — an increased demand driven largely by the health needs of the aging baby boomer population.
Special Application Requirements
The Occupational Therapy Assistant program has special program admission criteria which must be completed prior to applying for the clinical phase of the program. A student may be admitted to the college at any time in order to complete prerequisite and general education coursework.
What Will I Do as an Occupational Therapy Assistant?
Occupational therapy assistants help people of all ages participate in the things they want and need to do through the therapeutic use of everyday activities. Common occupational therapy interventions include helping children with disabilities to participate fully in school and social situations, helping adolescents and adults who are recovering from injury to regain skills and providing support for older adults experiencing physical and cognitive changes.
Some Job Duties May Include:
Provide clients with therapeutic activities and exercise programs to improve their lifestyles
Lead children who have developmental disabilities in play activities that promote coordination and socialization
Teach clients how to use special equipment; for example, showing a client with Parkinson's disease how to use devices that make eating easier
Assist occupational therapists in developing goals for each client
Assess and document treatment progress under the direction of an occupational therapist
Assist clients and families with the transitioning process from rehabilitation to home
Work on a team with physical therapy, nursing and speech therapy staff
Career Quick Facts
Career Outlook

Median Salary Average: $60,520
SC Salary Range: $37,220-$76,600

Salary and career information from the U.S. Bureau of Labor Statistics.

Entry Level Positions

Occupational Therapy Assistants
Virtual Tour
Program Information
The Occupational Therapy program at Piedmont Technical College prepares graduates to attain the required competencies needed to successfully complete the National Board for Certification in Occupational Therapy (NBCOT) to become a Certified Occupational Therapy Assistant.
The program is accredited by the Accreditation Council for Occupational Therapy Education (ACOTE) of the American Occupational Therapy Association (AOTA).
6116 Executive Boulevard, Suite 200
North Bethesda, MD 20852-4929
(301) 652-AOTA
www.acoteonline.org
Accreditation Status: Good status
Video