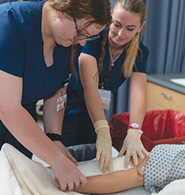 The Patient Care Technician program combines basic knowledge with applied skills mastered in the classroom and laboratory. Graduates will be certified in CPR, First Aid and AED (Automatic Electronic Defibrillator). Students will also be eligible to take national certification exams to become certified as Phlebotomists, Patient Care Technicians and or EKG Technicians. The student will also possess skills for ward secretary and monitor tech.
Credentials offered
A Career as a Patient Care Technician
Because health care is changing at an unprecedented pace, new or varied approaches to patient care are emerging. One such approach is the use of multi-skilled individuals known as patient care technicians who are a part of the health care team.
As a patient care technician, your duties may include giving EKGs, taking vital signs, such as blood pressure, pulse and temperature, acting as a phlebotomist, and assisting with medications under the supervision of a registered nurse or physician.
Patient care technician is a multi-skilled field where you will find possibilities for growth and advancement.
What Will I Do as a Patient Care Technician?
Patient care technicians work alongside doctors, nurses and other health care professionals to provide direct patient care in a variety of health care environments.
The patient care technician job description includes assisting patients with many tasks that they cannot do for themselves while they are in hospitals, rehabilitation clinics, assisted living facilities, nursing homes or long-term care facilities. You may assist patients with tasks such as eating, getting out of bed, taking a bath, and brushing their teeth and hair.
Some Job Duties May Include:
Medical and surgical asepsis
Basic anatomy and physiology
Cardiac monitoring
Electrocardiography
Phlebotomy
Clerical skills related to patient care
Professional and interpersonal concepts
Career Quick Facts
Career Outlook

Median Salary Average: $24,190
SC Salary Range: $18,710-$32,530
81% placement rate for 2020-2021 graduates

Salary and career information from the U.S. Bureau of Labor Statistics.

Entry Level Positions

Patient Care Technician
Nursing Assistant

Employers

Active Day
AnMed Health
Beach Medical Weight Loss
Bee Healthy
Burton Center
Compass Family Medicine
Department of Veterans Affairs
Disability & Special Needs
Edgefield County Hospital
Greenville Health System
Greenwood Regional Rehabilitation Hospital
JF Hawkins Nursing Home
Langston House
Laurens County Memorial Hospital (Now Prisma Health)
Lexington Medical Center
Magnolia Manor
National Health Care
Newberry County Memorial Hospital
Prisma
Self Regional Healthcare
Trinity Mission Health & Rehab
Wesley Commons
Whitten Center
Virtual Tour
Program Information
Graduates of the program will be qualified to work under the supervision of licensed professional personnel and alongside other health care providers in a variety of settings.
Graduates will hold CNA certification and be qualified to sit for the National Certified Patient Care Technician (NCPCT) exam, National Certified ECG Technician (NCET) exam and the National Certified Phlebotomy Technician (NCPT) exam at the completion of the course and prior to graduation. Students will hold a certification in nursing assistant, patient care technician, ECG and phlebotomy.
Video