Respiratory Care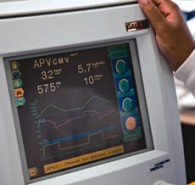 Respiratory care is a professionally and personally rewarding career with a balanced blend of technology and patient interaction. Working under the medical direction of doctors to provide treatment to patients with heart and lung disorders, respiratory therapists are important members of the health care team
Featured Profile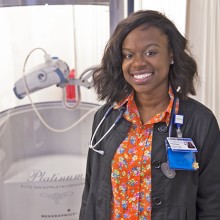 Respiratory Care Major
Graduation Date: August 2014
Precious Logan always dreamed of a career in health care. She wanted to help people.
Career Information
Career Tracks:
Entry Level Salary Average: $38,174
Range for Recent Grads: $27,500-$48,000
90% placement rate for 2014-2016 graduates
Entry Level Positions:
Respiratory Therapy Technician
Respiratory Therapist
Advancement to supervisor and management positions possible
Program Information
As a respiratory therapist, you'll provide treatment for all age groups—from infants to the elderly.
You'll provide temporary relief to patients with chronic asthma or emphysema, as well as emergency care to patients who are victims of a heart attack, stroke, drowning or shock.
The Respiratory Care program is accredited by the Commission on Accreditation for Respiratory Care. Proficiency in all aspects of respiratory care, including diagnostic, rehabilitative and therapeutic applications, prepares PTC students to take the entry and advanced level NBRC exams.
Employment Information
Graduates of Piedmont Technical College's Respiratory Care Program are working all over the region and throughout South Carolina. Recent graduates have found work with:
Locations:
More Photos
Video