Veterinary Technology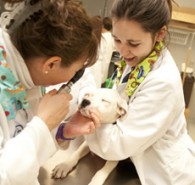 Employment of veterinary technologists and technicians is projected to grow much faster than the average for all occupations, according to the Bureau of Labor Statistics. If you love animals and enjoy working with your hands, then the challenging career of Veterinary Technology may be just right for you.
Featured Story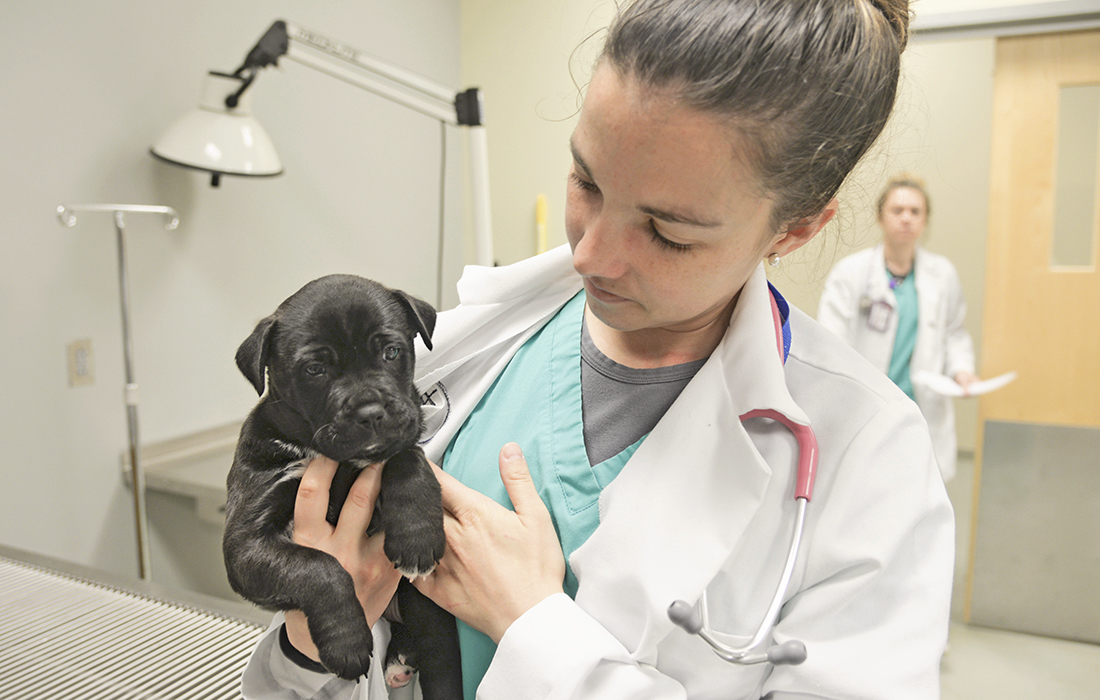 Tuesday, July 16, 2019
Working as a veterinary technician involves far more than the fun stuff like cuddling puppies and kittens. Most of Piedmont Technical College (PTC) Veterinary Technology Program Director Dr. Ruthie Buist's students enter the program understanding this. Others, not so much.
"I actually had...
A Career in Veterinary Technology
Designed to be a five-semester program that starts in the fall of each year, Piedmont Technical College's AVMA-accredited Veterinary Technology program prepares graduates to sit for the Veterinary Technician National Examination to become fully licensed veterinary technicians.
Based in Newberry, SC, PTC's program is the only one of its kind in the central region of South Carolina, and one of only three programs statewide.
Special Application Requirements
The Veterinary Technology program has special program admission criteria which must be completed prior to applying for the clinical phase of the program. A student may be admitted to the college at any time in order to complete prerequisite and general education coursework.
What Will I Do as a Veterinary Technician?
Veterinary technicians are important members of the veterinary health care team; they are educated in the care and handling of animals, the basic principles of normal and abnormal life processes, and in routine laboratory and clinical procedures. All veterinary technicians work under the supervision of a licensed veterinarian.
You'll work with the local animal shelter in Newberry County to learn all the different breeds as well as behaviors that different animals experience. For the large animal medicine classes, you'll visit local farms to get hands-on experience with dairy cattle as well as horses and other common large animal species like goats and sheep.
Some Job Duties May Include:
Observe the behavior and condition of animals
Provide nursing care or emergency first aid to recovering or injured animals
Bathe animals, clip nails or claws, and brush or cut animals' hair
Restrain animals during exams or procedures
Administer anesthesia to animals and monitor their responses
Take x-rays and collect and perform laboratory tests, such as urinalyses and blood counts
Prepare animals and instruments for surgery
Administer medications, vaccines, and treatments prescribed by a veterinarian
Collect and record animals' case histories
Career Quick Facts
Career Outlook

Median Salary Average: $31,420
SC Salary Range: $21,610-$40,670
94% placement rate for 2017-2018 graduates

Salary and career information from the U.S. Bureau of Labor Statistics.

Entry Level Positions

Veterinary Technologist
Veterinary Technician

Employers

Veterinary Technology graduates are in high demand, and PTC's coordinators regularly get calls from veterinary practices all over the region asking about students who are scheduled to graduate soon.

Most graduates work in small animal private practice or specialty practice, but others work in research setting.  Some recent graduates have found work at:

Anderson Animal Hospital
Angel Oak Animal Hospital
Animal Emergency Clinic
Batesburg-Leesville Animal Services
Birchwood Veterinary Hospital
Carolina Veterinary Specialist
Chinquapin Animal Hospital
Clinton Animal Hospital
Cornerstone Veterinary Care
Creature Comforts
Dutch Fork Animal Hospital
Emerald City Animal Hospital, SC
Foothills Veterinary Hospital
Fountain Inn Animal Clinic
Four Paws Animal Clinic
Grace Animal  Hospital - Lexington, SC
Lake Murray Animal Hospital
Lexington Animal Clinic
Mid Carolina Animal Hospital
Midlands Veterinary Specialists
Newberry Animal Hospital
Pine Street Animal Hospital
Reidville Road Animal Hospital
Ridge Haven Equine
Seven Oaks Animal Hospital
Silver Bluff Animal Hospital
Simpsonville Animal Hospital 
South Carolina Veterinary Specialist and Emergency Care
Southern Equine Services
Spartanburg Animal Clinic
Sunset Animal Clinic
Twin Oaks Animal Hospital
Upstate Veterinary Specialists
VCA Animal Specialty of SC
USC Lab Animal Facility
Verdin Veterinary Specialist
Veterinary Healthcare Associates
Virtual Tour
Program Information
The Veterinary Technology program at Piedmont Technical College serves a need for qualified veterinary technicians in the mid-state area. Because the Veterinary Technology curriculum is technical, hands-on skills are greatly emphasized in order to teach students the best practices in working with animals.
In order to become a credentialed veterinary technician, you must graduate from an AVMA-accredited program in order to sit for the Veterinary Technician National Examination (VTNE). The Veterinary Technology program is accredited by the American Veterinary Medical Association, 1931 North Meacham Road, Suite 100, Schaumberg, IL 60173-4360; (847) 925-8070; fax (827) 925-1329; www.avma.org.
State Licensure Eligibility Information
Veterinary Technology Pass Rate
Veterinary Technology Application Process
Veterinary Technology is a limited enrollment program that has special admissions requirements. These requirements must be completed before you can be accepted.
If you are a new student, there are three key steps to complete before entering the Veterinary Technology program:
Are You Program-Ready?
Before applying for program entry, be sure you meet the requirements for acceptance. Start by connecting with an advisor and review program requirements.
We've also provided the resources below to assist you with the program acceptance process.
Veterinary Technology Fact Sheet

Application Worksheet

Health Care Program Acceptance Data

Graduation Plan

Veterinary Tech Handbook

Health Care Division Handbook

Health Care FAQ

Guided Pathways
Apply to the Veterinary Technology Program
Once you've taken the necessary steps to become program ready, it's time to apply to the program.
Applications are accepted for the fall entry into the Veterinary Technology program on the following schedule
Application Dates - May 1-16 
Notification of Program Acceptance Emails Sent - Mid-June
Program applications must be submitted during the scheduled dates for this program to be considered. 
Note: If you haven't already done so, you must apply to the college before completing the Veterinary Technology program application. 
Locations: