Veterinary Technology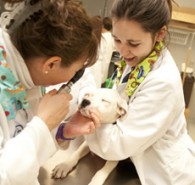 Employment of veterinary technologists and technicians is projected to grow 30 percent from 2012 to 2022, much faster than the average for all occupations, according to the Bureau of Labor Statistics. If you love animals and enjoy working with your hands, then the challenging career of Veterinary Technology may be just right for you.
Featured Profile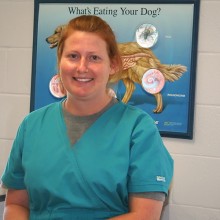 Veterinary Technology Major

Melissa Waters has discovered that sometimes you need to follow your heart to discover your passion. She came to Piedmont Technical College for the radiologic technology program, but has found her calling with the veterinary technology program.
Career Information
Career Tracks:
30% growth through 2022
Salary Range: $21,030 - $44,030, with a median of $32,490
100% placement rate for 2014-2016 graduates
Entry Level Positions:
Work in animal hospitals, research facilities, and animal shelters
Work alongside veterinarians or physicians
Program Information
Designed to be a five-semester program that starts in the fall of each year, Piedmont Technical College's AVMA-accredited veterinary technology program prepares graduates to sit for the Veterinary Technician National Examination to become fully licensed veterinary technicians.
Based in Newberry, SC, PTC's program is the only one of its kind in the mid-state area of South Carolina, and one of only three programs of its kind statewide. 
Real-World Training, One-on-one Instruction
Because the Veterinary Technology curriculum is technical, hands-on skills are greatly emphasized in order to teach students the best practices in working with animals.
The program works with the local animal shelter in Newberry County to give the students as much experience with various dogs and cats as possible. Working with the shelter's animals allows students can see all the different breeds as well as behaviors that different animals experience. For the large animal medicine classes, students visit local farms to get hands-on experience with dairy cattle as well as horses and other common large animal species like goats and sheep. 
After students graduate and get their licenses, they're qualified to work in many facets of veterinary medicine. Students are well-prepared to work in clinical small animal practices which focus on common pets like dogs and coats. But they're also qualified to work in large animal practices, which focus on animals like horses and cattle, exotics and wildlife management, and in zoo animal medicine. Additionally, students can work in government-related careers, as USDA inspectors, in industry-related jobs in research, and in emergency and specialty medicine. 
Veterinary Technology Pass Rate
High Demand for Graduates
Veterinary Technology graduates are in high demand, and PTC's coordinators regularly get calls from veterinary practices all over the region asking about students who are scheduled to graduate soon.
Most graduates work in small animal private practice or specialty practice, but others work in research setting.  Some recent graduates have found work at:
Locations:
More Photos