Automotive Technology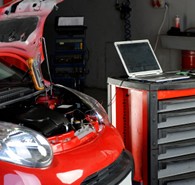 Piedmont Technical College's nationally recognized Automotive Technology program prepares future certified technicians for the challenges of the automotive industry. The specialized training you'll receive in the automotive program will prepare you to become an ASE certified technician, a credential that can provide greater earning potential through demonstrating your expertise in the field.
Career Information
Career Tracks:
67% placement rate for 2014-2016 graduates
Average South Carolina technician salary $38,470
Entry Level Positions:
Automotive Dealer Technician
Service Shop Technician
Possible Self-employment
Program Information
Students receive training in our state-of-the-art facility in eight areas of automotive service: engine repair, engine performance, electrical and electronic systems, manual drive train and axles, automatic transmission/transaxle, suspension and steering systems, brakes, and heating and air conditioning. Students also learn customer service skills needed in today's automotive shop environment and develop strong work habits.
Resources
Download the Automotive Technology Program's  Required Tool List »
Awards & Accolades
2009 T2/Chicago Pneumatic Southeast Region School of the Year
Top 4, 2009 T2/Chicago Pneumatic National School of the Year
2007 S.C. Automotive Award of Excellence (AIPC)
Locations:
Video