Building Construction Technology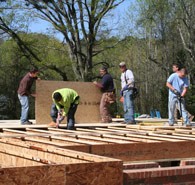 The Building Construction Technology program at Piedmont Technical college offers a comprehensive construction education. Students learn the entire range of residential and light commercial building techniques through hands-on projects both on campus and outside the college community. You'll get practical training in estimating building costs, carpentry, cabinet making, residential wiring, blueprint reading, brick masonry, construction, building codes and safety.
Featured Profile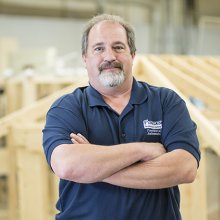 Building Construction Technology Major
Graduation Date: May 2017
In May, Kenneth McDaniel prepared to walk across the graduation stage at Piedmont Technical College to complete a journey that he was not always sure was possible when he decided to get his degree.
Career Information
Career Tracks:
92% placement rate for 2014-2016 graduates
Average salary for recent graduates: $35,560
Entry Level Positions:
Project Manager
Construction Supervisor
Possible Self-Employment
More...
Program Information
As a building construction technology student, you'll receive one-on-one instruction from our experienced faculty, and you'll develop the discipline, teamwork skills, and sense of pride in your work required to excel as a builder.
We know that it's critical for students to get hands-on experience applying what they've learned in the classroom. PTC's program teaches students every aspect of the construction business, so hands-on application is stressed as a vital re-enforcement of classroom instruction.
Students participate in various construction projects on campus, and get experience with a full, start-to-finish residential construction project. Each day as a building construction student is different and is based on what the class is studying. From blueprints to estimating building costs to carpentry, you'll be engaged in all aspects of construction, and you'll receive hands-on training—from concept to completion—in building a house.
Clubs & Organizations
Locations:
More Photos
Video