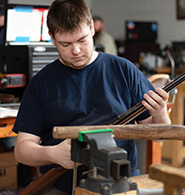 In Piedmont Technical College's Gunsmithing Program, you'll learn the skills you need to be a professional Gunsmith. The Gunsmithing program consists of an introductory and an advanced certificate and is the only one of its kind in South Carolina.
Credentials offered
Featured Stories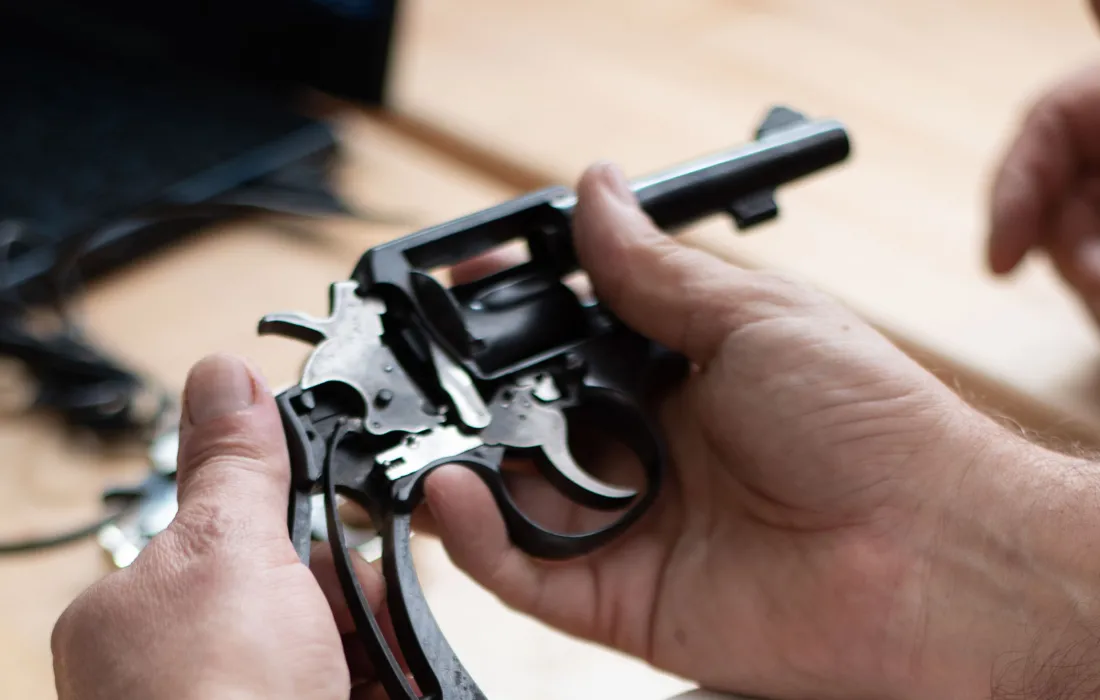 Hardly a week goes by that Piedmont Technical College (PTC) Gunsmithing Program Director John Littlefield doesn't receive a call from a firearms-related business seeking referrals for work candidates qualified in the field of gunsmithing. The demand has been strong for years and remains so. "Right now, the firearms industry is booming," Littlefield said. "People have never been more aware of their...
A Career in Gunsmithing
The firearms industry in the United States is booming, and gun sales are at an all-time high. This high level of interest creates an opportunity for people with an interest in firearms and the right set of skills and knowledge to provide a valuable and lucrative service to gun owners.
Hunters, sportsmen, collectors and firearms enthusiasts all need the services of experienced gunsmiths to repair and customize their favorite firearms. That means there's a big demand for skilled professionals to keep the weapons working well.
Gunsmiths repair and modify firearms to blueprint and customer specifications. In their work, gunsmiths use hand tools and machines such as lathes, mills, surface grinders and buffers. They may restore antique guns, convert old rifles to up-to-date firearms or adapt factory-made rifles to the special needs of customers. Many gunsmiths are self-employed, and some work for gun manufacturers or sporting goods stores.
What Will I Do as a Gunsmith?
In Piedmont Technical College's Gunsmithing program - the only one of its kind in South Carolina - you'll learn the skills you need to be a professional gunsmith.
Students completing the program will have gained the knowledge and confidence to set up a gunsmithing shop or become employed by a company that requires this type of skill.
Some of your responsibilities may require you to:
Make custom modifications to pistols, revolvers and shotguns
Work with hand tools and basic machine tools, including drill presses, bench grinders and the lathe
Utilize metal polishing and metal refinishing techniques to refurbish firearms
Complete custom barrel-fitting, chambering and action alterations
Inlet, shape and finish custom rifle stocks
Test and compare finished work pieces to specifications
Career Quick Facts
Career Outlook

Median Salary Average: $56,940
SC Salary Range: $33,590 - $83,570
100% placement rate for 2020-2021 graduates

Entry Level Positions

Gunsmith I
Journeyman Gunsmith
Armorer
Ammunition Specialist
Manufacturing Action Assembler
Retail Gun Sales
Field Gun Sales Rep
Self-Employment

List of Employers

Some recent graduates have found work at:

Archangel
Armstrong Gunsmithing
Bolt & Barrel Gunsmithing
Cabela's
Field Lily Gunsmithing and Marksmanship, LLC
Finlay Gunsmithing
FN Manufacturing
Ford Gunsmithing
Fort Jackson
Gunrunner Arms
Hilltop Outdoors, LLC
Huffines Gunsmithing
Kalashnikov USA
Martin Arms
Newman Gunsmithing
Old Dog Gunsmithing
Palmetto State Armory
Piedmont Technical College
Precision Arms
Remington Arms Company
Sandlapper Arms and Ammunition, LLC
SGT A's Gunsmithing
Shoot Straight
St. Gabriel Gunsmithing
Swamp Fox Custom Rifle Works & General Gunsmithing
The Outpost
The Village Gunsmith
Walmart
West Texas Ordnance
Program Information
The gunsmithing program at Piedmont Technical College offers two certificates - Introduction to Gunsmithing and Advanced Gunsmithing.
The introduction certificate will provide the novice gunsmith experience with hand tools, blueprint reading, schematic understanding, basic machine tool operations and the nomenclature used in gunsmithing.
The advanced certificate is designed for students who have completed the Introduction to Gunsmithing certificate. Instruction covers advanced metal finishing, custom barrel-fitting, modern stock refurbishing and more.
Students also can complete the associate degree, which is good for those who would like to either own their own business or gain employment with a major firearm manufacturer.
Acknowledgements

Piedmont Technical College would like to thank the following organizations for their generous support of our gunsmithing program:

National Rifle Association
NRA Foundation
Brownells
Midway USA
FN Manufacturing
National Wild Turkey Federation
Hornady Ammunition
Charter Arms
Friends of NRA, Greenwood Chapter
South Carolina Arms Collector Association
Blue Press Publishing
Mark Novack inc.
Hunters Headquarters
Montana Rifle Company
ER Shaw Barrel Company
Hogue Stocks
MJT Customs
Doug Turnbull Mfg.
Kokopelli Products
Legacy Arms Works
Aero Precision
Jarrett Rifles
Greenwood Pawn Brokers
Video