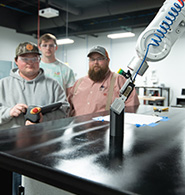 Piedmont Technical College's Mechatronics program offers a comprehensive education that combines elements of electronics, pneumatics, hydraulics, mechanics, IT, computers and robotics. With instruction in Mechatronics, you'll be prepared for the modern, automated workforce.
Featured Stories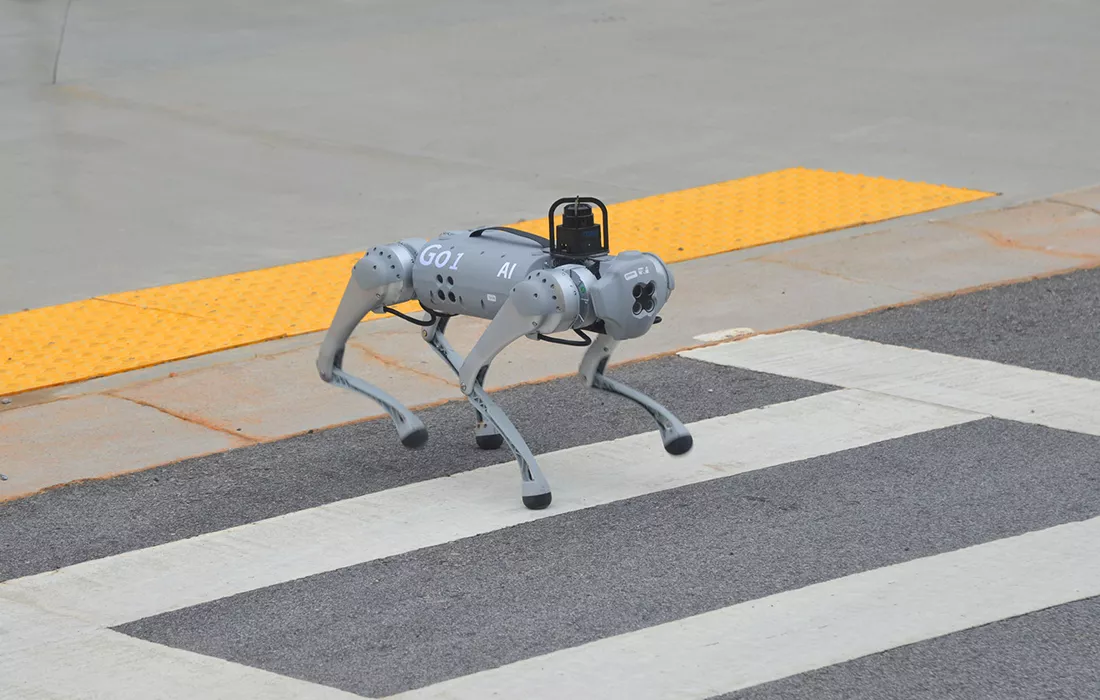 You might say that Piedmont Technical College's O'Dell Upstate Center for Manufacturing Excellence in Greenwood is now a dog-friendly facility. A new four-legged resident can be seen patrolling the halls on a regular basis, and it's loyal to the Mechatronics Technology Program. And make no mistake, the light chrome-colored canine is a very special "shop dog." "It's a quadruped robot. It walks on...
A Career in Mechatronics
Robotics, programmable logic controllers, automation: these are just a few of the advances that have helped to dramatically increase the productivity and efficiency of modern manufacturing. These increasingly complex systems offer opportunities for students with the skills taught in our Mechatronics program.
All plants and industries must be well-maintained to run at full capacity, so demand for mechatronics technicians will remain strong. In fact, in a study by the National Association of Manufacturers, over 80 percent of manufacturers reported a "moderate to serious" skills shortage in their workforce, so career opportunities are excellent for well-trained PTC graduates.
At PTC, you'll get the hands-on training and classroom instruction you need for success in today's modern, automated workplace.
What Will I Do as a Mechatronics Technician?
Mechatronics students cross-train in control systems, electronic systems, pneumatics systems, computers and mechanical systems that integrate product design and automated manufacturing processes. Coursework combines various skills to teach students a comprehensive approach to developing solutions for work-specific applications.
Students are trained on state-of-the-art mechatronics equipment from suppliers including Kuka, Mitsubishi, Festo, ABB, Allen Bradley and Siemens, ensuring that graduates have the knowledge and skillsets they need to be successful in today's modern manufacturing facilities.
Career Quick Facts
Career Outlook

Median Salary Average:  $59,080
SC Salary Range:  $36,930 - $74,410
81% placement rate for 2020-2021 graduates

Salary and career information from the U.S. Bureau of Labor Statistics.

Physical Demands

active: walking, carrying, standing
lifting to 70 lbs.

Entry Level Positions

Electro-Mechanical Technician
Industrial Production Manager

List of Employers

Recent graduates have found work at:

Aaron's Sales & Lease
Amick Farms
Ascend Performance Materials
AstenJohnson
Atlas Computer Solutions
Avery Dennison
Bekins Distribution Center
BMW
Bridgestone/Firestone
Burnstein von Seelen Corporation
Cardinal Health
Carolina By Products
Carolina Machine Engines
Carolina Pride
Carolina Surgical Repair
Caterpillar
Ceramtec
Colgate-Palmolive
Commissioners of Public Works
Cryovac
Cullum Electric Mechanical
Cutler-Hammer
D&W Fine Pack
Department of Transportation
Cominion Energy
Eaton Corporation
Erskine College
Federal Bureau of Investigation
First Quality Tissues
Flexible Technologies
Fuji
General Electric
Georgia-Pacific
Greenwood Fabricating and Plating
Greenwood Mills
Greenwood Packing Plant
Greenwood School District 50
Hunter Construction Industrial Motors
Industrial Pine Products
Inman Mills
International Paper
Kinard Control Systems
Lanford Welding & Mechanical
Little River Electric Co-op
Lonza
Louis Rich
Magna Drive Automotive
Michelin
Milliken
Mita
Mundy Companies (formerly Austin Industrial)
Newberry Electric Cooperative, Inc.
Norbord
Perrigo
Pilcher Hamilton Corporation
Pilgrim's Pride
Pioneer Frozen Foods
Renfro Corp.
Richtex Brick
Riverbanks Zoo & Garden
S & D Electric
Sage Automotives
Sears
Self Regional Healthcare
Solutia
Southeast Control Systems
SPF North America
Sprint
Timken
Town of Prosperity
Tyson Foods 
US Army Corps of Engineers
Velux
Verizon Wireless
Voith Industrial Services
Wal-Mart Distribution Center
Ward's Electric
West Electrical
West Carolina Rural Telephone Incorporated
West Fraser
ZF Transmissions
Virtual Tour
Program Information
Instruction for the Mechatronics associate degree program covers hydraulics and pneumatics, robotics and automated controls, programmable controllers, computer systems, process control and mechanical applications. Students will receive practical hands-on experience and computer simulation on flexible manufacturing and automated assembly line processes.
The program also offers a certificate designed to introduce system-approach analysis and basic troubleshooting on automated equipment. All coursework counts toward the full associate degree in Mechatronics Technology.
Designed in Collaboration with Industry
The entire Mechatronics curriculum has been designed in partnership with the same companies you'll work for after graduation. 
Developed under a collaboration of the five Upstate technical colleges called TechReadySC, every aspect of the program has been put together in response to needs expressed by employers.  The program meets industry standards as defined by BMW, Bosch, Fujifilm and Tyco, and students are trained on state-of-the-art mechatronics equipment from suppliers including Kuka Robot Group, Festo, and Siemens.
Practical training provides the experience you'll need for a successful career in manufacturing. All plants and industries must be well maintained to run at full capacity, so demand for industrial electronics technicians will remain strong. Students receive first-hand experience with the same kind of tasks they'll need to handle on the job.
Partnership with Siemens

PTC has partnered with Siemens, an industry-leading provider of electronic manufacturing solutions. Three full-time PTC faculty members have been certified in Siemens Level 1 & Level 2 Certifications. As a result of that training, they're using new teaching methodologies in the Industrial Electronics & Mechatronics program courses in an effort to promote understanding of the automated and computerized systems used in industry and to make the courses much more interactive.
Video