Mechatronics Technology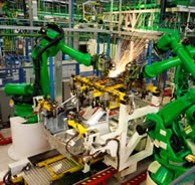 Piedmont Technical College's Mechatronics program offers a comprehensive education which combines elements of electronics, pneumatics, hydraulics, mechanics, IT, computers and robotics. With instruction in Mechatronics, you'll be prepared for the modern, automated work force.
Featured Profile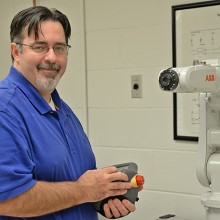 Mechatronics Technology Major
Graduation Date: August 2014
Jason White tried to avoid the family business. But, he found out it was in his blood.
Career Information
Career Tracks:
Entry Level Salary Average: $39,270
Salary Range for Recent Grads: $33,000-$57,000
Entry Level Positions:
Electro-Mechanical Technician
Industrial Production Manager
Program Information
Mechatronics students cross-train in control systems, electronic systems, computers and mechanical systems that integrate product design and automated manufacturing processes. Course work combines various skills to teach students a comprehensive approach to developing solutions for work-specific applications.
Because industrial applications are becoming more and more complex, industries need technicians with skills that cross a variety of disciplines. Advanced manufacturing today incorporates elements of many different aspects of engineering to create complex, automated systems.
As a result, many existing job categories currently or will soon require mechatronics skills and problem solving abilities for professionals who design, implement, manufacture, service and repair a wide array of equipment. 
Designed in Collaboration with Industry
The entire Mechatronics curriculum has been designed in partnership with the same companies you'll work for after graduation. 
Developed under a collaboration of the five Upstate technical colleges called TechReadySC, every aspect of the program has been put together in response to needs expressed by employers.  The program meets industry standards as defined by BMW, Bosch, Fujifilm and Tyco, and students are trained on state-of-the-art mechatronics equipment from suppliers including Kuka Robot Group, Festo, and Siemens.
Practical training provides the experience you'll need for a successful career in manufacturing. All plants and industries must be well maintained to run at full capacity, so demand for industrial electronics technicians will remain strong. Students receive first-hand experience with the same kind of tasks they'll need to handle on the job.
Partnership with Siemens

PTC has partnered with Siemens, an industry-leading provider of electronic manufacturing solutions. Three full-time PTC faculty members have been certified in Siemens Level 1 & Level 2 Certifications. As a result of that training, they're using new teaching methodologies in the Industrial Electronics & Mechatronics program courses in an effort to promote understanding of the automated and computerized systems used in industry and to make the courses much more interactive.
Locations:
More Photos
Video