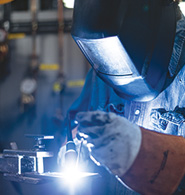 Welding plays a critical role in the strength and durability of everything from cars to heavy industrial machinery to bridges. In Piedmont Tech's welding program, you'll learn to weld in the four main positions on both structured steel and pipe.
Featured Stories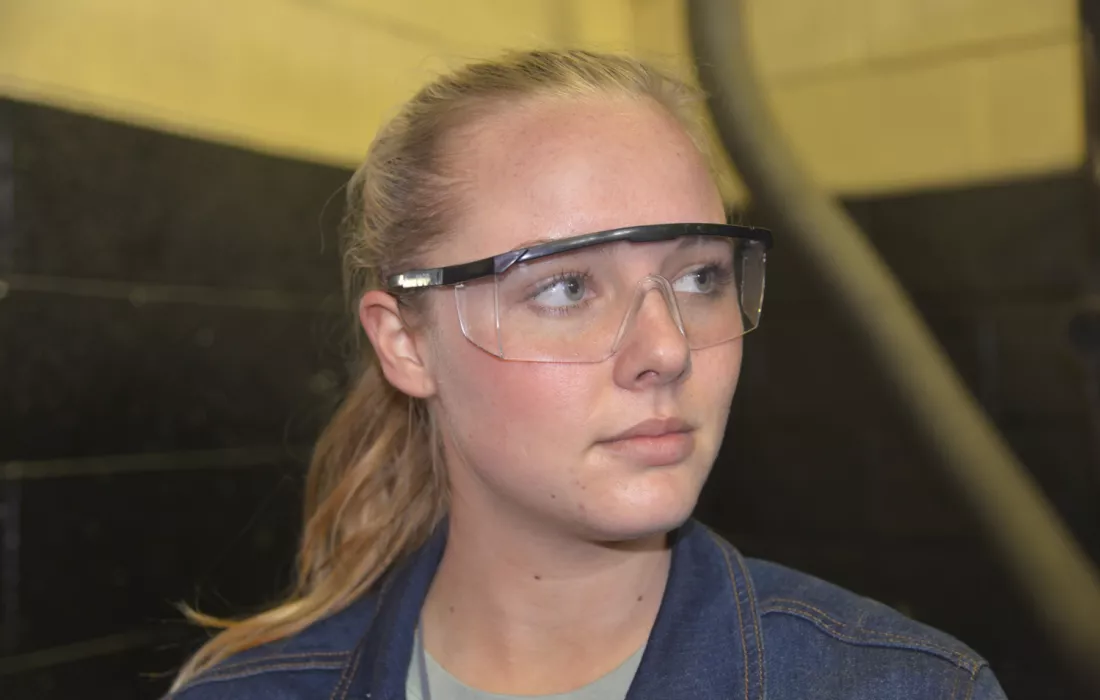 Unlike many high school girls, the last thing 17-year-old Ashlyn Gordon worries about in class is the condition of her manicure. No. This girl is not afraid to get her hands dirty, to sweat a bit under her welder's mask. She is one of three young women pursuing welding diplomas as part of Piedmont Technical College's Dual Enrollment partnership with the Abbeville County School District. In all, 12...
A Career in Welding
Because welding is such an important part of most products, employment can be found in a wide range of settings — from heavy manufacturing, like making airplanes, cars, and earthmoving equipment to residential and commercial construction. Welding also plays an important role in building and maintaining oil pipelines and rigs, power plants, and many other industries.
Graduates of the Welding program are prepared to work for construction firms, sheet metal fabricators, plant maintenance providers, auto body welding companies and other heavy industrial careers. Although placement rates vary from year to year, around 90 percent of graduates find work a short time after graduation. Job prospects should continue to be excellent as employers report difficulty finding enough qualified people.
What Will I Do as a Welder?
Whether you like the idea of traveling and working outdoors, or if you want an indoor job that's close to home, you can find a great job as a welder. You can also find welding-related jobs in sales, teaching, and opportunities are good if you want to start your own company.
Study blueprints, sketches or specifications
Calculate dimensions to be welded
Ignite torches or start power supplies
Monitor the welding process to avoid overheating
Maintain equipment and machinery
Inspect structures or materials to be welded
Career Quick Facts
Career Outlook

Median Salary Average: $48,087
SC Salary Range: $35,516-$58,606
100% placement rate for 2020-2021 graduates

Salary and career information from the U.S. Bureau of Labor Statistics.

Physical Demands

active (walking, carrying, standing)
lifting to 70+ lbs.
good eyesight

Entry Level Positions

Fabricator/Welder
Possible Self-Employment

List of Employers

Recent graduates have found work at:

Albemarle Chemical Plant
Austin Industrial
Big Gun Robotics LLC
Carolina Pride
Chicago Bridge & Iron Company
City of Elberton
Clinton Newberry Natural Gas Authority
Dalkotech SC
Eaton Corporation
Eberspacher
Fluor Daniel
General Electric
Georgia-Pacific
Gulbrandsen Manufacturing, Inc.
HardHat
Intermech
Kimura, Inc.
Komatsu
Lanford Welding & Mechanical
Martin Marietta
Metal Masters
Muns Welding and Mechanical, Inc.
Packiq
Piedmont Technical College
Pitts Steel
Redline Machining
Russell Dam
Sage Automotives
Spirit Construction
Trades Industrial Company, Inc.
United Magill
Valley Proteins
Velux - Greenwood, Inc.
Vulcan
Program Information
With morning, afternoon and evening programs, and class locations in both Greenwood and Laurens, Piedmont Tech's Welding program makes attending class easy to work into your schedule
You can also get started early through our dual enrollment agreements in some high schools. Check with your guidance counselor for more details.
Video