Military & Veterans
At Piedmont Technical College, we recognize the sacrifice of those who have served in the United States Armed Forces, and we are honored to assist you in using your benefits to advance your educational and career goals.
PTC is approved for many veterans' educational benefits and is fully staffed to assist veterans in processing their benefits.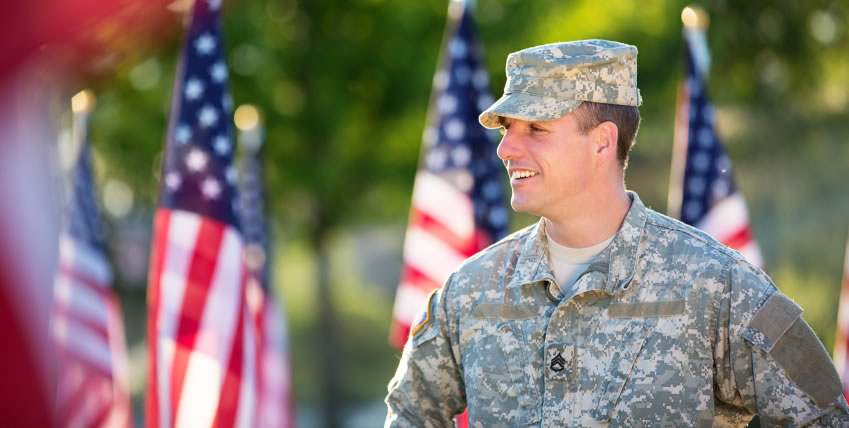 Helpful Links
On this page:
Which PTC programs are eligible?
All PTC credit programs are eligible for VA Benefits. With more than 80 programs in fields that are in demand, Piedmont Technical College has the education and training that's right for you.
 
What benefits am I eligible for?
Calculate Benefits
Use the GI Bill Comparison Tool to calculate your benefits based on your status and length of service. Visit our VA Benefits page for additional details and programs.
Tuition Assistance
Military tuition assistance is dependent primarily upon your command. Many commands will approve tuition assistance for promotion points, career advancement, and morale purposes. Check with your Education Service Officer (ESO) to find out more, or visit GoArmyEd to request Tuition Assistance online.
 
Yellow Ribbon Program
Piedmont Tech was recently accepted into the Yellow Ribbon Program by the U.S. Department of Veterans Affairs. The program allows schools to cover any tuition expenses for veterans that are not already covered by the Post 9/11 GI Bill. The VA will match PTC dollar-for-dollar in covering the additional expenses. The program is particularly geared toward veterans who do not qualify for in-state tuition. Piedmont Tech can accommodate 50 students in the Yellow Ribbon Program.
STUDENT SUPPORT SERVICES VETERANS PROGRAM
Thank you for your service!  YOU have served for US! Now, let US Serve and Support YOU! The Student Support Services Veterans (SSSV) Program at Piedmont Technical College is a federal TRiO program funded by the Department of Education to serve 60 Veteran students each academic year.
Mission:
To provide services that will assist Veteran students successfully transition from "Boots to Briefcases". 
Objectives:
To increase the number of Veteran students who persist from one academic year to the next academic year
To increase the number of Veteran students who are in good academic standing
To increase the number of Veteran students who graduate and/or transfer to a four year institution 
For more information, contact the Veterans Center at (864) 941-8764.