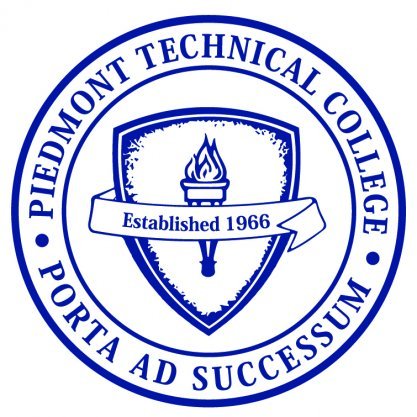 Academic Honor Students Recognized for 2017 Summer Term
November 2, 2017
Piedmont Technical College students who had outstanding academic accomplishments during the 2017 summer term have earned inclusion on the President's List. To be named to the list, students must be full time and earn a term GPA of 4.00. Students will receive a certificate of achievement signed by the college president.
President's List students include:
Abbeville County - Timothy A. Cann and Moriah Z. Paul, both of Abbeville; Brianna M. Timms of Calhoun Falls; Jimmy R. Beasley, Jr. of Donalds; and Jessie K. Estep of Due West.
Augusta, Georgia - Robert A. Finlay.
Cherokee County - Julian C. Harrison of Gaffney.
Edgefield County - Keenesha D. Sanders of Edgefield; and Correy S. Cunningham of McCormick.
Elberton, Georgia - Alyssa J. Greenway.
Georgetown County - Tanner Hanson of Murrells Inlet.
Greenwood County - Jessica D. Bice, Walfre O. Carrillo, Cameron T. Cox, Ceirra P. Dunlap, William R. Hays, Samuel Hernandez Moreno, Vanessa A. Jennings, Morgan King, Lowenna Prestel, Atari K. Roundtree and Lisa L. Terry, all of Greenwood; Tyler B. Gibert, Savannah T. Medford, Samuel W. Sutton, Jr. and Stephen K. Turner, all of Ninety Six.
Laurens County - Joan J. Pittman of Clinton; Frank Green of Gray Court; Anna A. Bottu, Maryelizabeth A. Powers and Jacob Smith, all of Laurens; and Lucky J. Maroney of Waterloo.
Newberry County - Sydney N. Breaux, Alecia Jackson and Kevin Y. Maldonado-Hernandez, all of Newberry; and Kaitlynne Goodman of Prosperity.
Pickens County - Anthony Simmons of Easley.
Richland County - Charles E. Elder, III of Columbia.
Saluda County - Quinntaura J. Graham of Saluda.
To be named to the Dean's List, students must be attending full time and have earned term GPAs of 3.75 or higher.
Dean's List students include:
Abbeville County - George T. Guy and Shantice A. Johnson, both of Abbeville.
Eastman, Georgia - William S. Newman.
Edgefield County - Mark S. Jebens of Edgefield.
Greenwood County - Johnathan D. Leopard of Bradley; Teresa L. Cowan, Kimberly A. Dibari, Stacy D. Gray and Austin C. Morris, all of Greenwood; Britney B. Blair and Jeffery B. Crisp, both of Ninety Six.
Laurens County - William F. Amick of Clinton; Caroline J. Wagler and Christopher L. Wooldridge, both of Cross Hill; Diana J. Contreras Hernandez of Joanna; Zachery D. Chandler and Eric Reynoso, both of Laurens; and Connor Y. Wilson of Waterloo.
McCormick County - Denise N. Freeman of Abbeville.
Newberry County - Lisa Johnson of Newberry.
Richland County - Samuel Heinecke of Hopkins.
Saluda County - Guadalupe Robles of Saluda.
York County - Stephen W. Ford of Fort Mill.
The Merit List recognizes students who are registered for 6-11 credit hours and have earned term GPAs of 3.75 or higher.
Merit List students include:
Abbeville County - Lisa S. Addison, Jessica L. Bowie, Briana L. Coates, Mirisha Coleman, Mary L. Costner, Matthew W. Ergle, Tara N. Greeson, Crystal M. Lamb, Lisa Christina T. Lanford, Ashli N. Leopard, Amanda H. Nickles, Robert L. Norman, Jr., Cheyenne L. Ratliff, Andrea A. Stone, Paul A. Stovall, Elizabeth A. Thackson and Natalie B. Wilson, all of Abbeville; Janice N. Loughner of Donalds; Julian T. Dent, III of Due West; Ciara C. Buege, Destiny L. Dean and Kaylin G. Young, all of Honea Path; Keaton Flowers, Fonda P. Martin, Brook L. Mcgaha, Danny H. Minnich, Jr. and Gregory B. Sorrow, all of Iva.
Aiken County - Trevor S. Beard and Matthew J. Linder, both of Aiken.
Anderson County - Jeffrey B. Linn, Jason M. Moberly and Nicholas Powell, all of Anderson; and Rusty M. Burton of Iva.
Athens, Georgia - Whitney G. Burkhalter.
Augusta, Georgia - Anitoria T. Leverett.
Berkeley County - Anastasia Belk of Goose Creek.
Crestview, Florida - Bennett Wicker.
Dorchester County - Brandi A. Mims of North Charleston; and Reagan A. Ladson of Summerville.
Edgefield County - Jonathan D. Thomas of Edgefield; Jacqueline T. Bush, Tamika Key and Rebecca S. Langford, all of Johnston.
Greenville County - Brandi R. Foster of Honea Path; Ashley J. Scott of Mauldin; Larry Landy of Simpsonville; and Sydney A. Ironside of Travelers Rest.
Greenwood County - Tyler M. Burnette, Airen A. Devlin and Breelyn N. Kidd, all of Bradley; Corey M. Boyter, Charles E. Cooper, Linda K. Magaha and Wade J. Timmerman, all of Donalds; Jessica S. Anderson, Tonju L. Anderson, Yashara S. Avery, Heather M. Benshoof, April D. Bishop, Savana C. Bishop, Bryson Boggs, Joseph L. Broadway, Ronald G. Bullman, LaTazzie A. Calloway, Sydney Case, Tyler J. Coates, Nakisha A. Coleman, Summer A. Coxe, Andrew K. Cribbs, Tammy S. Cunningham, Reginald S. Davis, Ashley N. DeVore, Keith Doerflein, Jakob Dorn, Gina L. Drebenstedt, Amanda J. Duff, Brianna M. Getsinger, Nicholas L. Gibert, Emily Hawthorne, Zachary T. Hemann, Tyler M. Hembree, George C. Hill, III, Gloria J. Holmes, Peisan F. Hughes, Katherine A. Hunton, Thomas D. Jones, Cody Jordan, Tucker G. Mathews, Angelica D. Mathis, Melissa M. Mayo, Katie L. McCarty, Christina M. Mendoza, Jacob J. Miller, Derek A. Murray, Justin R. Nettles, Kimbela R. Norman, Cynthia Palmerin, Kristen L. Parker, Sabrina T. Richey, Chris F. Robertson, Tabatha L. Rogers, Daisy D. Sorrow, Melissa C. Stephens, Georganna M. Tidwell, Cinthya N. Torres, Tyler Turman, Thomas C. Wall, Kelonda C. Ward, Amanda L. Wells and Evan B. Zimmerman, all of Greenwood; De'Varius L. Harrison and Pamela K. Killingsworth, both of Hodges; John M. Avery, Ashley N. Hawkins, Heather M. Jackson, Dylan L. Morrison, Roxie L. Rushton, Dorothy M. Tellin, Stephen A. Vickery and Frank E. Waters, III, all of Ninety Six; Dana C. Burden of Troy; Kelsy L. Allen, Melanie Parks and Jason W. Vinson, all of Ware Shoals.
Kershaw County - Laura Branham of Elgin; and Stacey L. Gunter of Lugoff.      
Laurens County - Lillie R. Calwise of Chappells; Victoria Bates, Heidi A. Boyce, Shaquita N. Fuller, Heather M. Goins, Courtney E. Marsh, Tawanna L. Rice, Melissa L. Whitmire and Melissa W. Wright, all of Clinton; Megan M. Bohland and Alan B. Guevara-Gonzalez, both of Cross Hill; Karina Williams of Enoree; Ashley K. McLain of Fountain Inn; Brittany N. Burton, Caleb Faulkner, Kenneth J. Kern, III, Kathy C. Lang, James T. Pennington and Caitlin N. Williams, all of Gray Court; Tiffany S. Brewington and Myriam D. Castaneda, both of Joanna; Erica N. Lewis, Princess K. Boyd, Anna P. Crouch, Deanna O. Franklin, Jennifer T. Garrett, Victoria E. Griffin, Stephanie A. Jeter, Ana K. Ramirez, Miriam S. Rice, Jaquez D. Robinson, Hannah K. Tippins and Kathy D. Torres, all of Laurens; Rumike G. Dendy and Carey P. Pitts, both of Mountville; Morgan H. Balentine, Brian H. Padgett, Brantley L. Pressley and Christa G. Ross, all of Ware Shoals; Gary Anderson, Christopher Brown, Kevin B. Coker, Angel M. Lothridge and Dillon M. Qualls, all of Waterloo.
Lexington County - Lillie E. Free and Tung H. Pham, both of Chapin; Laurel Dabbs of Gilbert; Ariel W. Owen of Leesville; Leanne M. Kyzer and Brady T. Mason, both of Lexington; and Tionna Washington of West Columbia.
Lincolnton, Georgia - Natalie N. Wynn.
McCormick County - Kaisha Houston of Clarks Hill; Astacia A. Adams, Silas D. Cannady, Aliea Crane, T'Laysha C. Creswell, Tykeyma M. Davis, Carolyn K. Dennis, Jalisha A. Hardy, Donzell B. Jenkins, Akira N. Lovett, Da'Dra Mack, Nathaniel Mason, Tyrhea Mason, James J. Mather, Shatika L. Rice, Roderrious D. Sibert and Laura O. Walker, all of McCormick; Ja'Mya Y. Blair-Payton, Mataeo Durant and Lucinda E. Glassburn, all of Plum Branch.
Melbourne, Florida - Abdulrahman Alkaabi.
Nashville, Tennessee - Caitlin M. Lancaster.
Newberry County - Kevin H. Delesandro of Chapin; Sara E. Gardner, Robert Mcleod and Tyler D. Tucker, all of Kinards; Christina Johns, Kale Johns, Stevie Johns and Meghan E. Lake, all of Little Mountain; Daniel Bautista, Joanna G. Bedenbaugh, Sheneequa S. Bishop, Michael Bower, Kimberly A. Breaux, Mary P. Hill, Mary Beth S. Kunkle, Mallory S. Matthews, Janneth Morfin, William D. Morse, Scott Senn and Kayla H. Setzler, all of Newberry; William F. Lever and Tysheim K. Mendenhall, both of Pomaria; Colin Capell, Stefanie Glenn, Stephanie A. Johnson, James A. Lovette, Leah Mccullough, Rebecca H. Myers, Evan C. Thornhill, Robert G. Whiting, Tyquan D. Williams and Isha Q. Wilson, all of Prosperity; and Amy L. Patterson of Silverstreet.
Newbury, Massachusetts - Madison A. Williams.  
Pleasant Hill, Missouri - Austin M. Heflin.
Richland County - Mathew Protheroe of Chapin; Adam K. Newton of Columbia; Connor D. Burke of Elgin; Laura Hollamon and Glen P. Miller, both of Irmo.
Saluda County - Samantha Matthews and Whitney S. Pough, both of Batesburg; Erin L. Gilliland of Johnston; Gabriel W. Mulkey of Leesville; Jessica M. Byers of Ninety Six; Willette Wright of Ridge Spring; Shelby Berry, Carson A. Buzhardt, Amanda W. Corley, Dulce M. Gantt, Thomas Z. Hare, Amanda M. Hawkins, Sandra L. Herlong, Patrick W. Kirkland, Matthew S. Lacaze, Austin S. Miller and Erica T. Pratt, all of Saluda; Tammy L. Gillian and Brandon Tarlton, both of Ward.
Spartanburg County - Shakeena L. Fowler of Duncan; Kaitlyn N. Haynes of Enoree; Erika Lamb and Shalonie R. Sullivan, both of Lyman; and Jacky C. Middlebrooks of Spartanburg.
Williamsburg County - Glenn A. Ard of Andrews.