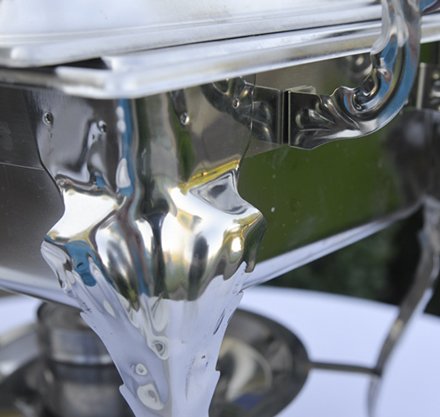 Annual BBQ Thanks Legislators, Other Supporters for Great Year
October 16, 2018
Piedmont Technical College and the Piedmont Technical College Foundation recently hosted their annual legislative barbecue at Bermuda's at The Links at Stoney Point. The event helps raise awareness about PTC's role in economic development and extends gratitude to legislators and other public servants for their support of the college's mission.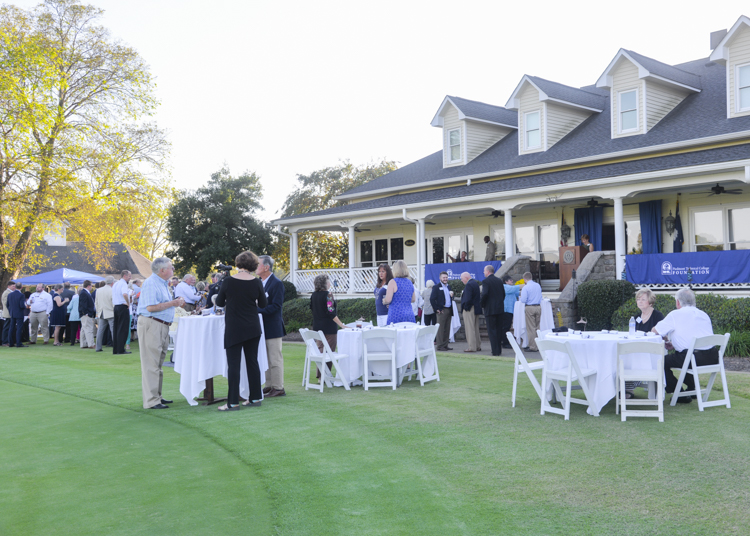 "I am happy to report that it's been a good year," said Dr. Ray Brooks, president of PTC. "We served more than 6,000 students in nearly 100,000 credit hours of instruction last year through our credit offerings, but that's only half the story. Last year, in partnership with local business and industry, we also served roughly 6,000 students through our workforce development programs, in more than 150,000 contact hours of training."
The event, funded by the PTC Foundation, included a social hour and a sit-down barbecue dinner that included ribs, chicken, pork, beans, coleslaw and all the fixings. Legislators and PTC officials discussed the college's essential function in the region, South Carolina's current economic status and how the college is partnering with counties throughout the region to strengthen economic development efforts.
"We have worked in close partnership with readySC™, Apprenticeship Carolina™ and local economic developers to leverage our strength in credit and non-credit training into real jobs and real opportunity for people all over the region," Brooks said. "We're thrilled with the new announcements from companies like Teijin, and we're committed every day to delivering the training our existing industries need to be successful ― from Self Regional Healthcare to Prysmian to ZF Transmissions."
For the first time, this year's event included participation from members of The Cornerstone Society, an association of Foundation friends who support the college through estate planning and other means. To qualify for Cornerstone Society membership, benefactors give estate-facilitated gifts totaling $25,000 or more. The group used the occasion to award an induction plaque to its newest member, Lorraine Angelino, the contracts management coordinator at Self Regional Healthcare.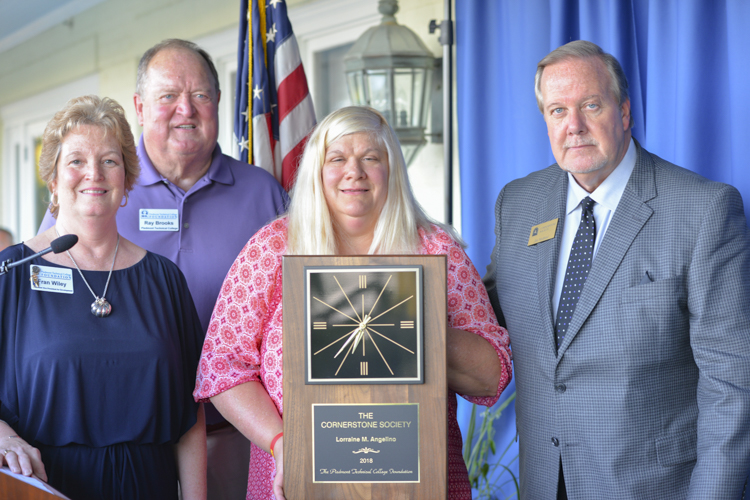 Angelino has multiple degrees, including a PhD in educational leadership from Clemson University, but she still remembers the financial hardship that once forced her to drop out in her first semester of college. As a member of the Emerald City Rotary Club, she believes in "doing good in the world" and "giving back to her community." Angelino is leaving a legacy for future PTC computer technology students so they can attend college without undue financial burden.
"Our continued success depends on both public support and the generosity of private citizens with a heart for education," Brooks said. "Your ongoing support creates a strong foundation that allows us to build the necessary facilities and to employ the highly trained faculty and staff that allow us to provide each of our students with a quality education."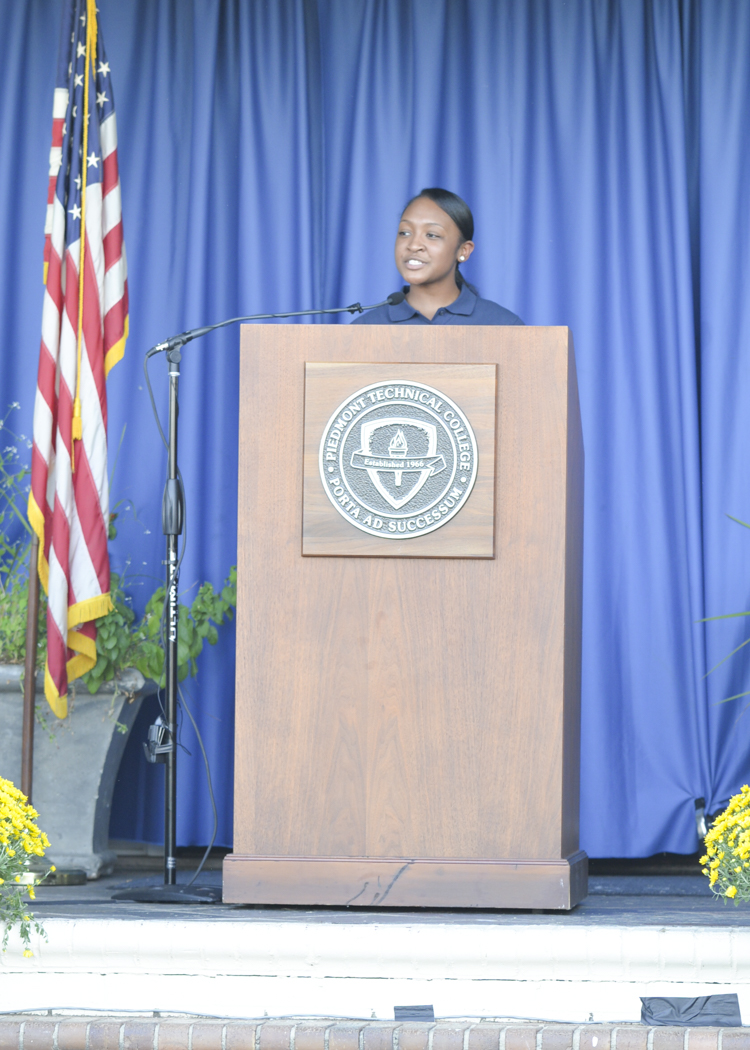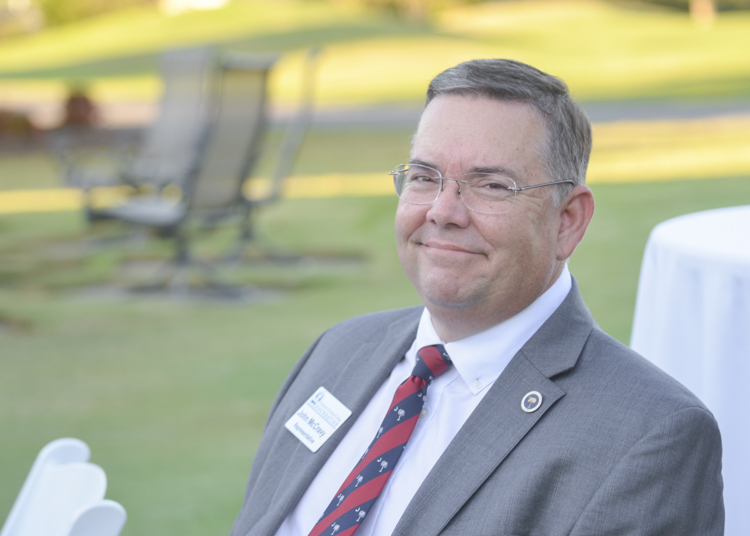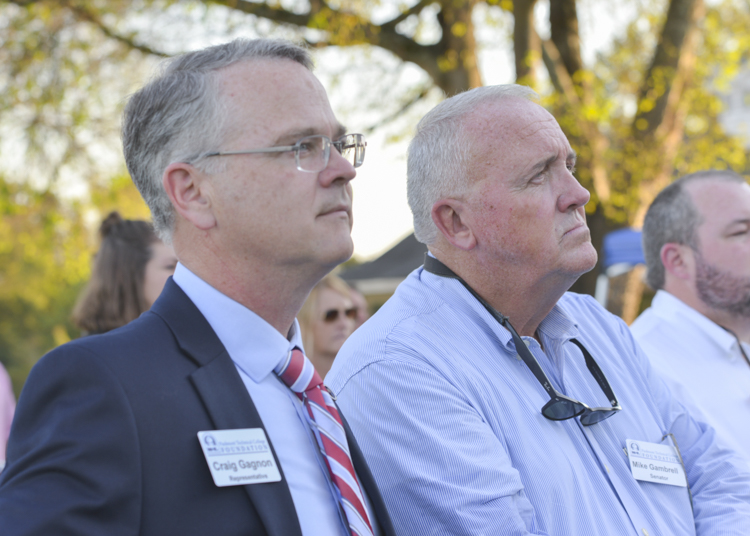 PHOTO CUTLINES
Dozens turned out on a warm fall evening for PTC's annual Legislative Barbecue.
Pictured from left: Fran Wiley, Assistant VP for Development at the PTC Foundation; Dr. Brooks; Lorraine Angelino; and Jim Medford, board chair of the PTC Foundation.
PTC Presidential Ambassador Alayjah Davis of Calhoun Falls spoke about the journey that brought her to Piedmont Tech.
District 13 Rep. John McCravy of Greenwood
District 11 Rep. Craig Gagnon of Abbeville (left) and District 4 Sen. Mike Gambrell of Columbia