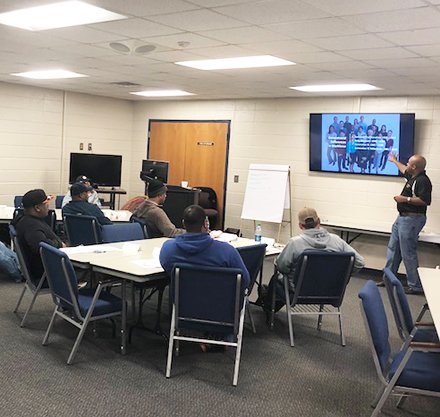 Apprenticeship Program Wins Over Velux Staff
June 26, 2018
The apprenticeship program that quietly launched in 2016 at Velux in Greenwood has gradually attracted notice, and more employees say they want in.
"Our apprentices have all been current employees," said Brad Setzler, human resources generalist at Velux. "Piedmont Technical College (PTC) provided all the training and materials. PTC coordinated everything, including helping secure the funds through Apprenticeship Carolina."
The apprenticeship program in leadership at Velux is wrapping up its two-year run, and another two-year program has begun to provide SAP (Systems, Applications and Products) training. The SAP training is completely online, which is popular with employees because they can participate when it is convenient for them.
"We have 34 active apprenticeship programs running," said Rusty Denning, PTC's associate vice president for economic development and continuing education. "Our industry customers appreciate Piedmont Tech serving as the liaison between them and the state funding agency to augment the cost of employer-sponsored apprenticeships. In a nutshell, it's high-quality training made affordable."
The apprenticeships are registered with the U.S. Department of Labor as part of federal funding awarded to the SC Technical College System specifically to expand apprenticeship in South Carolina. It is hoped that apprenticeships can address unmet needs for skilled workers in such fields as advanced manufacturing and construction.
"The industries participating in these apprenticeships benefit greatly because of the enormous return they receive from their discounted investment," Denning explained. "They come away with more skilled workers who, in turn, become even more loyal to the companies that invest in them."
"The apprenticeship program helps provide developmental opportunities to our employees," Setzler said. "It's continuing education to further their skills on the job. We liked it because we could keep the education and training local, which was big for us."
Setzler said that feedback on the program has been overwhelmingly positive.
"They want more of it! Participants and their managers all spoke highly of the training they received. They want it every year now. It was really beneficial," he said. "We would not even have known about it without PTC reaching out to us and helping us through the process."
The "earn while you learn" apprenticeship model is proving to be an effective, affordable tool for growing a skilled workforce.
"When folks are trying to do more with less, it's training that often gets cut," Setzler said. "This is a win-win."
PHOTO CUTLINE
Velux apprenticeship participants receive instruction from a Piedmont Tech educator.