Automotive Technology Program Welcomes New Coordinator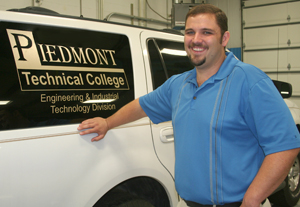 If you go by Southern Automotive in Greenwood to see Brad Emery, you may not find him there. That's because he is now the program coordinator for the automotive technology program at Piedmont Technical College.
Emery graduated from Greenville Technical College with an associate degree in Industrial Technology with a major in automotive technology. He also obtained several certifications including being Master ASE certified, ASE L1 certified and Master Medium/Heavy Truck certified. He worked at a few dealerships and private repair shops before deciding to open his own shop.
"I had worked at the same place for three and a half years, I was at top pay and I was 28 years old," Emery said. "I didn't want to work a dead-end job, so I decided to branch out on my own."
Before striking out on his own, Emery worked as an adjunct instructor for nearly two years. With the rise of his new business, though, Emery was forced to give up his teaching position. But he never lost contact with the faculty at PTC.
"I've always talked to Mike (Rodgers, former automotive technology program coordinator) at least once a month since I left," Emery said.
When Rodgers left Piedmont Tech to pursue other opportunities, he called Emery and encouraged him to apply for the job. Emery said the news was a shock, but that Rodgers left him with some encouraging words.
"He called me and said he wanted me to apply for the position because he believed that I could take what he had done with the program and keep it moving forward," Emery said. "There were some highly qualified people ahead of me and I did not imagine I would get it."
His experience proved to be what the committee was looking for in a program coordinator. Emery came in with a five-year and a 10-year plan for what he would like to see in the program to keep it growing. His goals include adding a light diesel program and a hybrid program.
"That's the future. The future is diesel and hybrid," said Emery. "Anything that's not gasoline is the future."
Emery said he will continue the Cobra student project, although he would like to change the type of car the students will use.
"The Cobra project is a great project for the students," he said. "We will do one more Cobra, but then we will switch cars. I don't believe in doing the same thing over and over."
Emery said he believes he will bring a unique perspective to the students.
"I feel that being a business owner and staying a business owner will be an asset to teach the students what I see every day and train them how I expect my employees to be," Emery said. "I am very particular, so if I can train them to my standards, they should be able to go to work for anyone and not be behind."