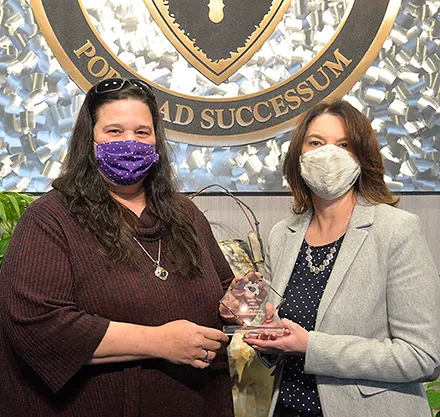 'Boundless Curiosity and Enthusiasm' Garner Accolades for PTC Instructor
Because she embraces technologies that are friendly and familiar to college-age students, Meredith Brown might be the Piedmont Technical College (PTC) instructor most likely to teach a lesson using an application like TikTok. And if outstanding course evaluations are any indicator, the psychology instructor's students clearly adore her. You might say she speaks their language, and the engagement that results is just one reason Brown was selected to receive the top Faculty Member Award for 2020 from the SC Association of Technical College Commissioners (SCATCC). The announcement was made during a virtual awards ceremony on Jan. 26, 2021. 
"For more than 14 years, through her boundless curiosity and enthusiasm, Meredith Brown has raised the bar for her fellow faculty members with the implementation and utilization of new ideas, new technologies and, above all, her caring attitude toward her students," PTC Area Commission Chairman George Piersol wrote in his nominating letter. "Through her ongoing drive to innovate in the classroom, Brown has continued to lead the way at PTC in thinking of new ways to encourage and engage students to help them be successful."
Recognizing that her students' needs change nearly as often as technology changes, Brown took the lead in learning about innovative new concepts and platforms and incorporating them into her instructional style. She began making short videos, using avatars and creating easily navigated modules for students in the college's learning management system. She also is investigating the use of new, interactive gaming technology in her virtual classroom.
Brown's impact at PTC far transcends the classroom, virtual or otherwise. She has generously contributed hundreds of hours passing along her expertise to fellow faculty members via in-service training sessions and makes herself available to any instructor seeking one-on-one guidance in utilizing various technologies. Brown is extremely involved at the college, serving on a variety of committees, including the Open Educational Resource (OER) Committee, which is committed to facilitating free, public domain resources to spare students the cost of textbooks and other materials. Brown herself created two OER courses that have been active for three semesters.
Her contributions have not gone unnoticed. Brown's colleagues have honored her with the PTC Art and Sciences Division Faculty Excellence Award, as well as the PTC Visionary Award, the college's highest honor for faculty.
"Ms. Brown's ongoing work to innovate in her classes and her willingness to share her techniques," Piersol said, "continues to help push Piedmont Technical College into the future."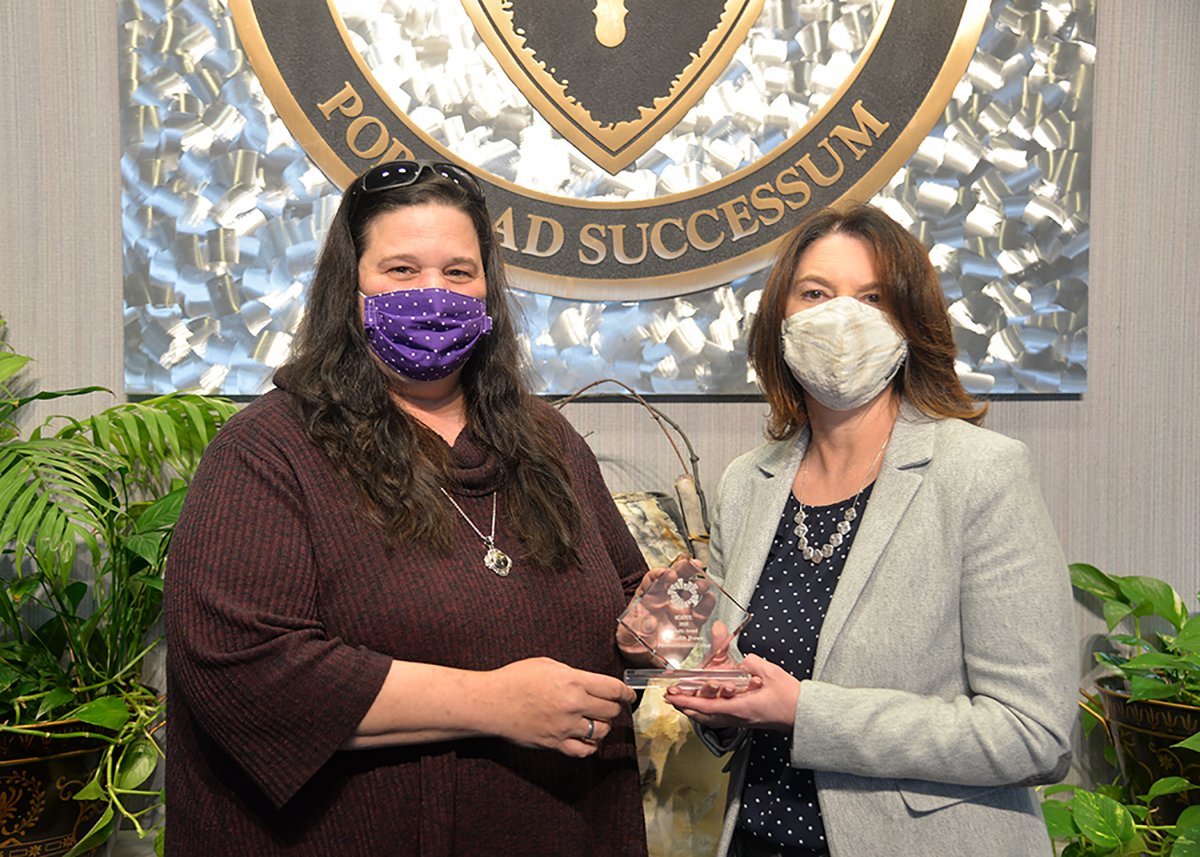 ###
PHOTO:  Dr. Keli Fewox, PTC Vice President for Academic Affairs (right) presents the SCATCC Faculty Award to Meredith Brown