Brown Welcomed as Director at PTC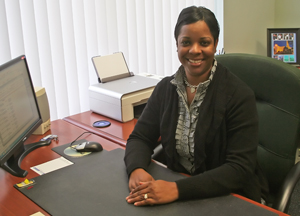 Piedmont Technical College has welcomed Alesia Brown as the director of human resources.
The Augusta native graduated from Augusta State University with a Bachelor of Science degree in middle grades education. She realized teaching at that level was not for her, so she began working for the Georgia Department of Labor as a service specialist. Her interactions with employers and potential employees showed her a career she was interested in developing. Brown went on to earn her master's degree in management with a concentration in human resources.
Brown spent two years with the Department of Labor and then moved to Lowe's Companies, working as an area resource manager. She was responsible for a large service area ranging from Augusta and Aiken to Greenville and Gaffney. While she enjoyed the position, the time away from her family became more and more difficult. She began looking for a position that would allow her to take a step forward in her career, but without the significant amount of required travel.
"I was looking for an opportunity as a director where I could continue to grow in my profession," she said. "I was fortunate that Piedmont Tech had an opportunity available at the time of my search."
Brown said she is excited about the opportunity to be a part of Piedmont Technical College, particularly given the length of tenure for many faculty and staff.
"When I heard 30 years, 28 years, I was amazed because I couldn't imagine someone not enjoying their work environment and staying that long," she said.
Welcoming Brown to her new responsibilities on the PTC team, Dr. Ray Brooks, president of the college, commented on the wealth of experience the new director brings to the college.
"Her depth of experience in human resources makes her the ideal fit for Piedmont Tech," Brooks noted. "We are indeed fortunate to have someone with her background join our team."