Clinton High Students Complete PTC Journeyman Welder Certificate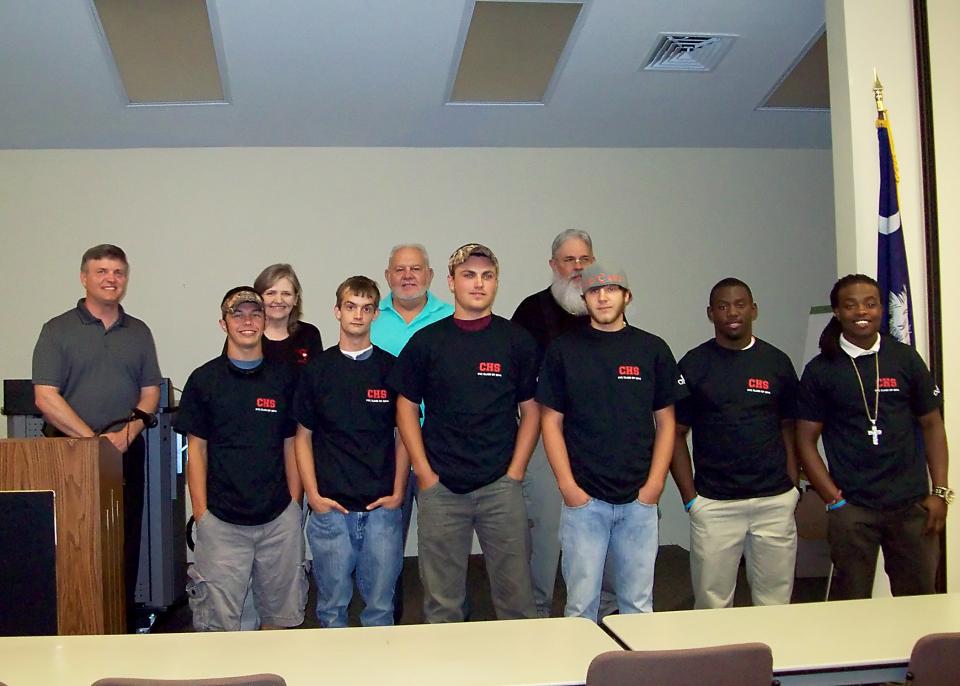 The partnership between Piedmont Technical College and Laurens District 56 has again produced graduates from the PTC journeyman welding certificate program at Clinton High School.
 "This was a great opportunity for the students in Clinton," said Amanda Richardson, director of dual enrollment at PTC. "We are excited about the success of the partnership."
Classes in welding have been offered at Clinton High School for several years, but these classes did not lead to a certificate. They could be applied to the welding diploma program for students who wanted to enroll at Piedmont Tech after they graduated. The new program allows students to complete the entire certificate in one school year.
The program was implemented for the 2012-13 school year and 11 students completed the certificate for the pilot year. In 2013-14, 16 students completed the program. The certificate program consists of 7 courses and allows students to continue at Piedmont Tech and pursue a welding diploma or go directly into the workforce.
"The certificate gives the students so many more opportunities once they graduate," said Richardson. "They can go out now and get a job, they can come to Piedmont Tech and get a diploma or they can apply the courses they have completed toward another degree."
There is no charge for the students to enter the program, which makes it desirable for students who want to earn the certificate or get a head start on another degree.
"There is an emphasis on the career and technical education areas and trying to establish more of those in the high schools," she said. "We've had other high schools express an interest in doing something similar."
For more information or for inquiries about your school's participation in the dual enrollment program, contact your school's guidance office or contact the dual enrollment office at (864) 941-8352.
Photo Caption: Sixteen students at Clinton High School recently completed the Piedmont Technical College journeyman welding certificate program. The program was implemented as part of a partnership between PTC and Laurens District 56. Pictured were, front from left, Caleb Moore, Patrick Smith, Colby Templeton, Justin Morgan, Maddison Simpson and Drek Lindsay. Back, David Kibler, interim dean of engineering and industrial technology at PTC; Lynn Black, Clinton High School guidance counselor; Jim Fleming, welding program coordinator at Piedmont Tech; and William Turner, welding instructor.