Commercial Art Program Expands Offerings to Laurens and McCormick
Piedmont Technical College is expanding its commercial art program with the addition of photography classes at the Laurens County and McCormick County campuses.
Beginning in the fall, Photography I, the basic digital photography class, will be offered at the Laurens County and McCormick County campuses. Classes will be held beginning at 5:30 p.m. to accommodate anyone interested in taking a basic course.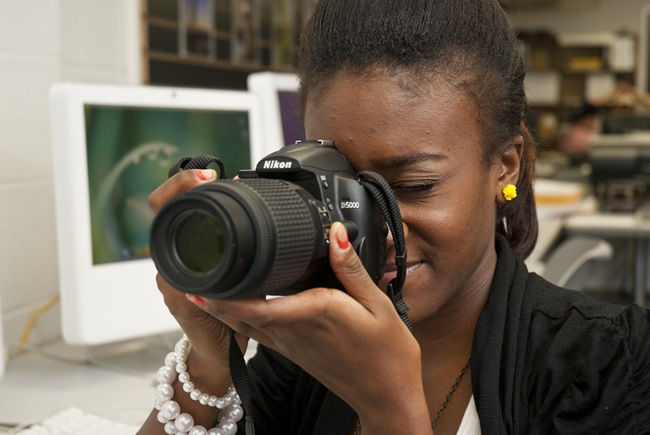 "These classes are basic digital photography covering the basics of the camera, proper camera handling, the basics of exposure and photographic composition," said Kendall Adams, commercial art program coordinator.
This beginner course will provide students with a fundamental understanding of how the camera works and why photos look a particular way.
"As students get more comfortable with the camera's controls and realize the impact simple changes to each control can have in their photos, this is when the magic happens," Adams said.
Simple composition theories and the correct settings for exposure controls will yield the biggest change in any photograph. The course will focus on improving students' photography to take it beyond the "snapshot" stage and into the realm of a well composed and well exposed photograph.
"Everyone has a different learning style and some learn more quickly than others," said Adams. "We will explore a number of different ways to convey the same information, but in a way that reaches everyone in the class, regardless of their skill levels."
The course is part of the requirements to pursue a photography certificate. The certificate provides both aesthetic and commercial applications of photography. Beginning, intermediate and advanced photography classes are available in addition to core courses.
Students who enroll in the class must have a digital camera with full manual controls, meaning the aperture, shutter speed and ISO can be set independently.
Adams said he hopes that this basic course will allow the program to expand to the county campuses, increasing the offerings to students in Piedmont Tech's seven-county service area.
"This is a great opportunity for students to explore what we have to offer through our commercial art program," said Adams.
For more information on the commercial art program or to register, contact the Laurens County Campus at 938-1505 or the McCormick County Campus at 852-3191.