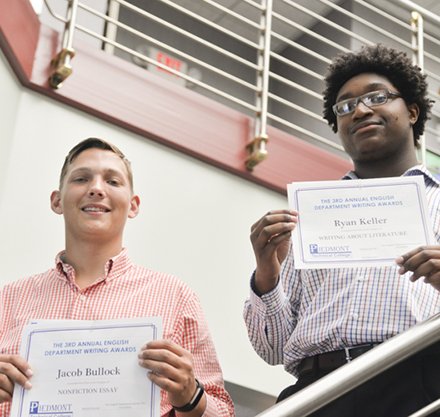 Excellent Writing Pays Off for Two Piedmont Tech Students
May 25, 2018
The next time you have to diagram a sentence or take a vocabulary test, just remember that good language skills ― and good writing skills in particular ― bring dividends both in life and, sometimes, in the bank account.
Two Piedmont Technical College (PTC) students recently won their categories in the college's Third Annual English Department Writing Contest. Students were invited to submit their best paper from an English class in the past year.
Jacob Bullock, a Gray Court resident who is pursuing an associate in arts degree, won the top prize in the nonfiction essay category for his persuasive essay, "The Death Penalty."
Ryan Keller, a Greenwood High School junior and PTC Dual Enrollment student, won in the writing-about-literature category for his theme analysis essay, "Living in Sin," about the Adrienne Rich poem of the same title.
It is noteworthy that both young men successfully maintain a 4.0 GPA. Each received a $100 prize for their winning entries.
The awards are made possible by the generosity of the Department of English and the PTC Foundation.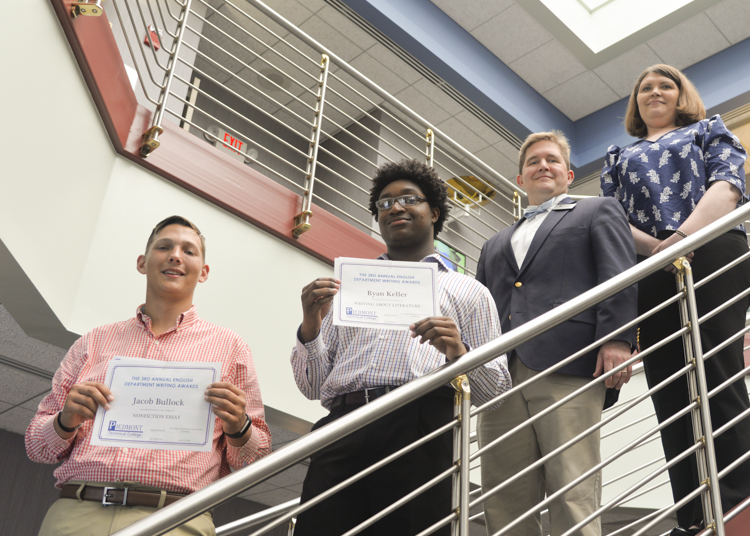 Pictured from left: Jason Bullock; Ryan Keller; Brad Griggs, PTC dean of arts and sciences; and Rebecca Soppe, PTC English instructor