Funeral Service Program Helps Students Hone Interviewing Skills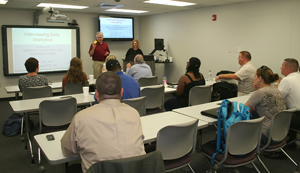 The Funeral Service Education department at Piedmont Technical College is working to make the students more job-ready by bringing in experts to assist with resume and interview skills.
Service Corporation International (SCI) owns funeral homes and cemeteries nation-wide. The company presented conducted a presentation at the national American Board of Funeral Service Education (ABFSE) conference dealing concerning with the availability of scholarships and the desire need for businesses to become more involved in the educational institutions. Following the conference, David Martin, funeral services director, decided it would be beneficial to bring representatives from the company to Piedmont Tech.
"We thought it would be helpful to our students to receive feedback on their resumes and interviewing skills from professionals in the business," Martin said.
Students prepared and submitted resumes and cover letters to SCI during the summer. Then representatives came in for a two-day seminar. Day one was a discussion of the resumes and what to expect and day two was filled with mock interviews.
"We wanted to establish and enhance our relationships with schools, administration and faculty and offer services that will be beneficial to students," said Ashley Leboeuf, campus services manager with SCI.
Martin said the seminar was very successful with the students and that he planned to offer it again, possibly in the spring.
"We are always looking for opportunities to better prepare our students," said Martin. "We want to give them the tools to be successful."
For more information on the funeral service education program, call (864) 941-8774.
Photo Caption: Service Corporation International representatives Larry Newsome, senior recruiter for field operations (left) and Ashley Leboeuf, campus services manager present during a two-day interviewing seminar to Piedmont Technical College students in the funeral service program.