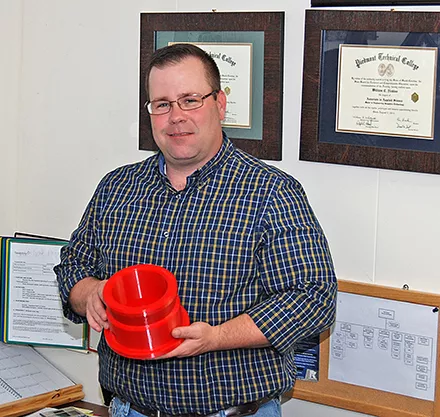 Graduate Finds Enjoyment in Engineering Technology
Cory Nickles is always up for a challenge. So, the engineering technology programs at Piedmont Technical College were perfect for him.
Nickles graduated from Greenwood High School in 1996 and enlisted in the United States Marine Corps. After his tour was over, he left the Corps because he didn't want to continually relocate his children.
"I didn't want to be gone their entire childhood," he said.
Then September 11 happened and Nickles joined the National Guard.
While in the military, a friend introduced Nickles to the combat engineer unit. At that point, he was hooked. He eventually moved on to become a combat engineer instructor.
Nickles continued to look forward to what he would do when he reentered civilian life. He began to explore the options to become an engineer.
"In this day and time, without a college degree, you're not going to be able to make enough money to support yourself," he said.
Nickles looked at several major colleges, but felt he was just another face in the crowd. He wanted a place that would connect with him as not just a number, but as a person.
"The faculty here at Piedmont Technical College made you feel at home," he said.
In 2013, Nickles completed his associate degree in engineering design technology (EDT) and in 2014 he earned his associate degree in mechanical engineering technology (MET). He will earn his bachelor's degree from South Carolina State University in August of 2017 and plans to pursue a master's degree. He is currently employed by Sealed Air in Simpsonville as a mechanical engineer.
"Everything I learned in the engineering design technology program I have put to use every day," said Nickles. "The two degrees, the EDT and MET, go very well together and make you very marketable out in the job world."