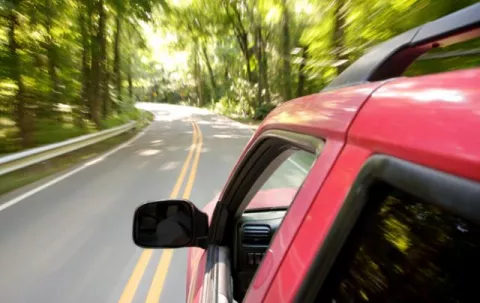 How to Prepare Your Car for a Trip
One thing they may overlook – if they drive, will they get there safely?
Just like having a checklist for packing and a list of the itinerary, it's important to have a checklist for the vehicle that's going to get you there.
Tires
Start with your connection to the road – your tires. Check that the air pressure in your tires meets your manufacturer's specifications. The recommended optimum pressure for your car can be found in the owner's manual or on a tag on the inside of the driver's side door.
And don't forget to check the air pressure in the spare tire. If you get a flat tire, there is nothing worse than finding out you have a flat spare tire while you're sitting on the side of the road.
Also, check the depth of your tires. If the tread is too low, it's a blow-out waiting to happen. If the tread is not wearing evenly, that can be an indicator that something is off with the alignment or something even more serious.
Fluids
Check your fluid levels. Many newer cars do not have the traditional dipstick for checking the oil. If it has the electronic monitoring system, you can still check your levels. Your owner's manual will walk you through how to run a check on your system.
Belts
A broken belt can cause an array of problems from a non-working air conditioning system to a car that won't move at all. Check the belts for cracks, tears and squeaks that may not seem like a big deal now, but can cause a major headache down the road.
Lights
Headlights, taillights, turn signals, fog lights, brake lights and marker lights are important parts of the car that many people forget to check. These lights are there to let people know where you are and what you're going to do. Many newer cars have indicators to let you know when a light is out – don't ignore it!
Wipers
Wiper blades are a vital part of the car that you never notice until you need them. But if you don't check to see if they are worn until that late afternoon thunderstorm hits, then it's too late. Check your wiper blades, front and back if you have them, for signs of wear and tear. If they look worn, replace them. Many auto parts stores will install them for you for free. And they prefer to do it on a sunny day.
A pre-trip inspection is a simple task that will save you an inconvenience during your trip and it can provide safety to you and your family. An inspection is the surest way of avoiding a mechanical failure that could have been avoided. If you're not sure how to do a pre-trip inspection, contact your local automotive shop. You'll likely find a few PTC Automotive graduates there who are ready and able to help you get on the road, and to your destination, safely.