Internship Provides Opportunities for Piedmont Tech Grad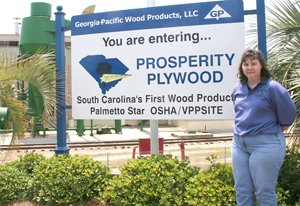 Rebecca Benson has taken up the challenge of entering the traditionally male-dominated world of engineering.
The Prosperity native enrolled in the engineering graphics technology program at Piedmont Technical College, a program that usually has a 10:1 male to female enrollment ratio. Those numbers didn't bother her, though. And that's a good thing because she has been taking part in the EGT internship program at Georgia-Pacific where she is the only woman in an office of 11 men.
"They have not made it difficult at all for me. They are always willing to help," Benson said. "I get the jokes just like the men get the jokes, but anything I've needed help with, they are willing to jump in and help me."
Benson said that her favorite part of the EGT program was working with the computer aided drafting (CAD) systems. Because she knew Georgia-Pacific would be working with CAD, Sandy Warner, department head for engineering technology, recommended the internship to Benson. She applied and was accepted.
While she has worked with the CAD system, Benson said she has been exposed to many different aspects of the field.
The EGT internship program has been part of the curriculum since 1995, providing interns to local companies. Students apply and interview for the positions. This is the first year Georgia-Pacific has participated and it has proven to be successful for the company and for Benson.
"We were the guinea pigs for an internship program in the maintenance and engineering project area, but I think we've proven the worth of it," said Phil Orr, asset availability leader at Georgia-Pacific who oversaw Benson's work. "She's done everything I hoped she would and more."
Benson completed her degree in May and her internship runs through June 30. But, she's not through with Georgia-Pacific. The manufacturing giant has hired Benson on full-time.
Benson is also giving back to the college. She has worked with the Girls Achieving in Technology and Engineering (GATE) summer program, a summer engineering technology camp exclusively for rising 10th, 11th and 12th grade female students.
"GATE is fun because you get to help high school girls and show them what different fields of engineering there are," she said. "On our tours to the local industries, we let them meet women engineers in the higher positions. We wanted to show them that just because you are a female doesn't mean you can't make it to the higher positions in this field."
Benson said that her combination of class work and her internship has made her more prepared to enter the field.
"I've had a really good time and really good teachers. Everybody was willing to jump in and help," she said. "I couldn't have asked for a better experience through Piedmont Tech."