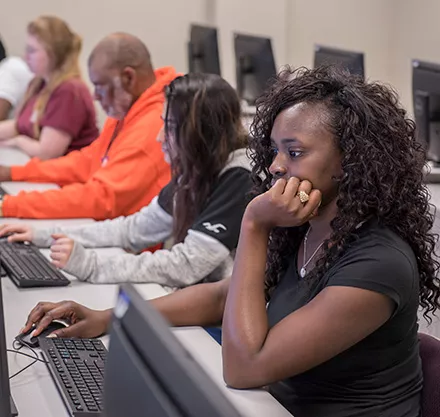 It All Adds Up: A career in business can take you anywhere you want to go
When thinking of a career in business, it's easy to picture a man or woman in a suit, carrying a briefcase on their way to a board meeting. And while that image is accurate, the career possibilities with a business degree or certificate are a lot broader than this point of view.
"We have plenty of graduates with office jobs like accounting and management," said Suzy Murray, interim department head of the business administration program at Piedmont Technical College. "But we have just as many students who work in areas like massage therapy, construction and landscaping."
Murray describes the world of business as an open book—one in which an individual can find themselves in a diverse range of careers from health care to manufacturing. "Business really does take you anywhere you want to go," she said.
"Look around in your day-to-day interactions," Murray added. "Look when you take your children to school or go out to eat. Look when you go shopping or visit your doctor's office. There's someone there running the business side of things."
A degree in business administration at Piedmont Tech doesn't always follow the traditional classroom model. In fact, the program provides flexible options that allow students to complete coursework on their schedule.
"You can complete our program completely online or in person," said Murray. "I have students in the military who are deployed in Afghanistan and students who are working all kinds of shifts. The online option really makes our program more accessible."
Charles Clinemyer, a student pursuing the associate degree with a concentration in management, is taking classes while juggling a full-time job and family obligations. "This option made it possible for me," he said. "I couldn't have done it without the online classes."
Beyond the online classes, many business students also benefit from hybrid courses where they can attend classes, but turn in all assignments and take tests online.
For instance, Abbeville native Adam Overholt is pursuing an entrepreneur certificate while working part-time in the family business. "All of my classes are hybrid classes, which is really nice," he said. "If my dad needs to have me on the job and I miss class, I can do the work online and will not fall behind."
Whether online, hybrid or in person, students in business administration can choose the associate degree option which allows them to focus on either accounting, business management or office management. For those who want to build their skillset fast, the college offers an accounting certificate and an entrepreneur certificate.
Many business administration students at Piedmont Tech also complete their associate degree and transfer credits to a four-year college or university to pursue a bachelor's degree.
Students choose to study business for a lot of reasons. And they enter the program at Piedmont Tech at all stages of life.
"We have older students who are looking for a new career or promotion," said Murray. "We have students straight out of high school, students with no experience and students who already have work experience."
Clinemyer, who currently works for Greenwood CPW, fits into that first category. "I've worked at CPW for almost 20 years," he said.
"I thought it might be an opportunity for me," he added. "I wasn't sure if I was ready, but I thought I'd give it a shot."
After being out for a while, Clinemyer wasn't sure how he would adjust to being back in school. "It was demanding and there were some late nights," he said. "But what Piedmont Tech has allowed me to achieve has really helped me at every turn."
Students like Clinemyer and Overholt are successful for a lot of reasons according to Murray. But she explains that the experience faculty members bring to the classroom is key to providing students with the necessary knowledge to succeed in business. "Our faculty members are individuals who have worked extensively in the areas they are teaching," she said.
"Instead of giving them a book definition, I use my personal experiences to illustrate concepts," Murray added. "That helps make a concept real to them. It helps them apply real-world knowledge when they enter the workforce."
For more information on the business administration program, contact Murray at (864) 941-8445 or go to www.ptc.edu/business.