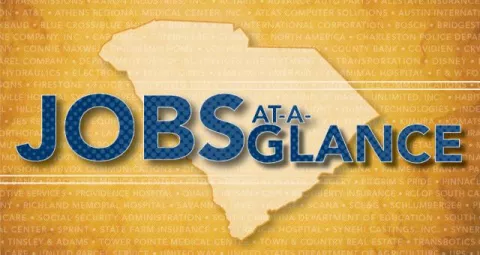 Jobs at a Glance: Openings for April 2013
About Jobs at a Glance
Piedmont Technical College receives news of new job openings all over the region on a regular basis and posts them to Jobs @ a Glance as a service to the community. In addition to providing information about local job opportunities, PTC also offers assistance with resume preparation, job interviewing tips, and more. For information on these services, please contact David Rosenbaum at rosenbaum.d@ptc.edu or visit SC Works in Room 101-A on the Lex Walters Campus-Greenwood.
Here are a few highlights from the last two weeks:
ZF Transmissions is currently seeking experienced CNC Set-Up Technicians and Programmers for the new transmission facility located in Laurens County to set up conventional, CNC and robotic machines for hobbing, hard & rotational turning, power honing, interior honing, lapping & laser welding. The positions require a high school diploma or GED equivalent and an associate degree in a technical field, or five years of experience in a related technical area with technical certifications. Pay range: $19.60 - $25.75/hr, depending on experience.
ZF Group is a leading worldwide automotive supplier for driveline and chassis technology, and is among the top ten companies on the ranking list of the largest automotive suppliers worldwide. 
Deadline: 8/31/2013
The S.C. Department of Health and Human Services in Columbia is currently seeking Information Technology interns/program assistants to fill two positions. 
One position will assist with the preparation of documentation pertaining to programming, systems operation and user documentation, contribute to planning, writing and maintaining systems and user support documentation efforts, and research new documentation tools and methods. This position will also assist in phases of conducting system development and help maintain project web sites. 
The second position will staff a Tier 1 call center for the Information Technology Help Desk, creating help desk tickets for received phone calls, and resolving help desk tickets. This position will also assist Tier 2 level technicians with hardware and software installations. Both internships pay $10.00/hour.
Deadline: 5/10/2013
Peak Employment Solutions is currently recruiting experienced drafters and designers for multiple CSRA organizations. Successful applicants must be experienced in 3D mechanical tooling and/or equipment component drafting/design. Experience should include AutoCAD, NX, SolidWorks, ProE. A minimum of an associate degree in mechanical engineering or drafting, or other engineering related discipline is preferred, along with 1-2 plus years of post school drafting experience. Pay range: $17.00 - $25.00.
Deadline: 8/01/2013
Alpha Genesis, Inc. (AGI), an AAALAC accredited breeding and research facility, is seeking veterinary technicians to provide clinical care for more than 1,000 Old and New World primates and to participate in medical research that may include neurological, obstetric or ophthalmic surgical procedures. AGI maintains two facilities in South Carolina including more than 5,000 primates. Working alongside clinical veterinarians, other veterinary technicians and animal care workers, the technician will assist in the performance of surgical diagnostic tests, and help to maintain the health of the colony.
Salary depends on experience, education and certification for the Veterinary Assistant and Technician positions. Must be AALAS certified or able to pass lowest level of AALAS certification within 12 months Must have completed at least 2 years of coursework or have prior laboratory primate experience.
Externships are available on a case by case basis for applicants wishing to gain experience working with laboratory animals.
Deadline: 12/31/2013
Michelin in Lexington, SC seeks an Automation/Engineering Technician to plan, organize, direct, and perform electronic/electrical maintenance to maximize production while assuring product quality standards are met at the assigned facility. Qualifications include a two year technical degree or equivalent Industrial / Military experience in Electrical-Electronics or Mechanical Engineering Technology. Qualified candidates will be screened to determine language, math and technical skills. Salary is competitive with an outstanding, industry-leading benefits package.
Deadline: 12/31/2013
Emmanuel Family Clinic in Saluda, SC is seeking a Billing Clerk to file insurance claims for clinic and hospital patients. The clerk will work with insurance companies, organize and report on billing issues, and converse with clients about bills and send statements. The successful applicant needs to be up to date on CPT and ICD coding. The Clinic is looking for a team player for a family centered practice. Insurance experience a plus. Bilingual in Spanish and English a plus but not required of position. Organizational skills a must.
Deadline: 5/30/2013
Upper Savannah Job Fair
Looking for a job? Don't miss the Upper Savannah Regional Job Fair on Wednesday, April 24 from 10am-3pm at the Greenwood Mall. Visit the SCWorks website for more information.
About Career Services at Piedmont Tech:
Piedmont Technical College offers a full suite of career services, including planning, counseling, resume assistance, and a wide variety of job search resources. Employers: If you're searching for employees, please consider listing your job opening with us.