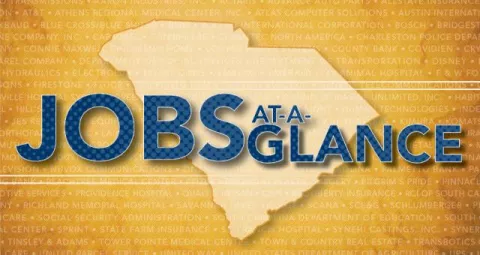 Jobs at a Glance: Openings for August 2013
About Jobs at a Glance
Piedmont Technical College receives news of new job openings all over the region on a regular basis and posts them to Jobs @ a Glance as a service to the community. In addition to providing information about local job opportunities, PTC also offers assistance with resume preparation, job interviewing tips, and more. For information on these services, please contact David Rosenbaum at rosenbaum.d@ptc.edu or visit SC Works in Room 101-A on the Lex Walters Campus-Greenwood.
Here are some highlights from the last few weeks:
ZF Transmissions is seeking experienced CNC Set-Up Techs/Programmers for the new transmission facility located in Laurens County to set up conventional, CNC and robotic machines for hobbing, hard & rotational turning, power honing, interior honing, lapping, & laser welding. Applicants should have a thorough knowledge of CNC programming G & M code programming. Requirements include at least a High School Diploma or GED; 3 + years of CNC Machining experience, experience with CNC programming and experience with CNC machine set-ups and change overs. Salary Range: $19.60 - $25.75/hr depending on experience.
Deadline: 8/31/2013
McGill AirFlow in Fountain Inn,  one of the country's leading suppliers to contractors of commercial and industrial sheet metal ductwork, seeks a Sales and Order Service Assistant to work with sales personnel in the company's Southeastern sales regions to obtain plans and specifications for bidding opportunities, study and understand them, make material takeoffs from drawings, and to price the products and prepare proposals. Qualifications include: a two year associate degree in business or the like, and sales support experience in the construction industry, including reading and using detailed construction drawings and making accurate takeoffs.
Deadline: 8/24/2013
Center Manufacturing, Inc. in Greenwood is hiring for a CNC Laser Programmer who will program and operate computer-controlled laser machines to cut patterns and/or parts from sheet metal producing customer parts from raw material in accordance with job specific work orders and inspection cards. One year certificate from college or technical school; three or more related experience and/or training; or equivalent combination of education and experience required.
Deadline: 9/01/2013
Massage Envy Spa in Anderson is seeking a licensed Massage Therapist to perform consecutive 50-minute quality massage therapy sessions; design-specific sessions based on client's individual needs; promote the health and wellness benefits to clients receiving massage therapy on a regular basis; and to create excellent experience for members/guests through friendly and helpful attention, among other duties. Benefits include steady clientele, employee massages at reduced cost, employment growth opportunities and sign on bonus.
Deadline: 8/30/2013
REMA USA LLC in Greenville has an immediate opening for an AP/AR Specialist. This is a great position for someone with exceptional analytical and problem solving skills. The ideal candidate will be detail oriented and well organized, have great communication skills and work well in a small business environment. The successful applicant should be self-starting and innovative and have the ability to multi-task between General Ledger Accounting, Customer Service Support and Administrative tasks in a professional manner.
Deadline: 9/01/2013
Right At Home of Newberry is looking for a Nurse Assistant to perform personal care activities to assist patients with the activities of daily living, including personal hygiene, ambulation, eating, dressing, shaving, and preparing meals and snacks. The nurse assistant will also perform patient-specific activities that are taught by a nurse, such as reinforcement of dressings and assisting with prescribed range of motion exercises.
Deadline: 1/1/2014
About Career Services at Piedmont Tech:
Piedmont Technical College offers a full suite of career services, including planning, counseling, resume assistance, and a wide variety of job search resources. Employers: If you're searching for employees, please consider listing your job opening with us.