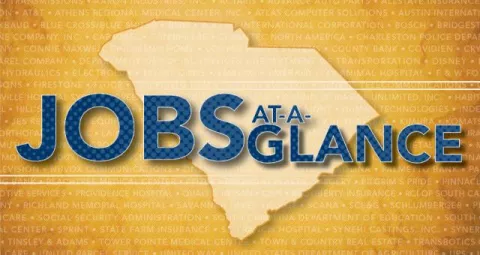 Jobs at a Glance: Openings for June 2013
About Jobs at a Glance
Piedmont Technical College receives news of new job openings all over the region on a regular basis and posts them to Jobs @ a Glance as a service to the community. In addition to providing information about local job opportunities, PTC also offers assistance with resume preparation, job interviewing tips, and more. For information on these services, please contact David Rosenbaum at rosenbaum.d@ptc.edu or visit SC Works in Room 101-A on the Lex Walters Campus-Greenwood.
Here are a few highlights from the last few weeks:
The Department of Transportation in Abbeville, SC seeks an Engineer to act as Project Manager/Inspector on road and Bridge Projects. The position requires a bachelor's degree in engineering and one (1) year of entry-level engineering work experience; or a bachelor's degree in engineering technology and three (3) years of entry-level engineering work experience; or an approved acceptable equivalence in accordance with State Human Resources Regulations. 
Salary rage: $48,014 - $70,204
Deadline: 6/17/2013
A manufacturer in Saluda, SC seeks an experienced Graphic Designer with experience in logo development, packaging and website design. The person selected will create graphics used on a new consumer product. Applicants should submit a current resume that includes education, last five employers or all work history within the past 10 years. Experience with brand development, packaging design and website design should be detailed.
Deadline: 6/21/2013
Eaton seeks a Mechanical Drafter to prepare all necessary mechanical drawings including, but not limited to, one line layout, 3-D models of short order specific parts or bus assemblies with flat files, overall layout, and connection details for complex assemblies from customer specifications and information. The drafter will perform a wide variety of activities requiring the application of more complex drafting principles and related technical knowledge. 
Offers a competitive salary package based on skills and experience and a comprehensive fringe benefits program.
Deadline: 7/1/2013
More Eaton Jobs...
Eaton currently has openings in a wide variety of positions including:  
HCR ManorCare in Union, SC seeks an RN-Nurse Supervisor to  supervise nursing personnel to deliver nursing care, and within the scope of practice, coordinate care delivery which will ensure that residents' needs are met in accordance with professional standards of practice through physician orders, center policies and procedures, and federal, state and local guidelines.
A Saluda County manufacturer is seeking an experienced IT generalist to set up and support an ERP system. The IT generalist will also be responsible for networking and maintaining computers.
Deadline: 6/21/2013
D&W Fine Pack is now hiring for Lead Technician, Mechanical Technician, experienced Tooling Technician, Maintenance Mechanics and Floor Production Workers.
Come and learn more about opportunities at D&W Fine Pack. If you have a resume, please bring it to the job fair on Thursday, June 20, 2013 at the Piedmont Technical College Center for Advanced Manufacturing, 109 Innovation Dr., Laurens SC (formerly Honeybee Lane)
Deadline: 6/21/2013
About Career Services at Piedmont Tech:
Piedmont Technical College offers a full suite of career services, including planning, counseling, resume assistance, and a wide variety of job search resources. Employers: If you're searching for employees, please consider listing your job opening with us.